LG's New TV Is So Portable It's a Briefcase
The screen on the LG StandbyME Go even rotates for TikToks.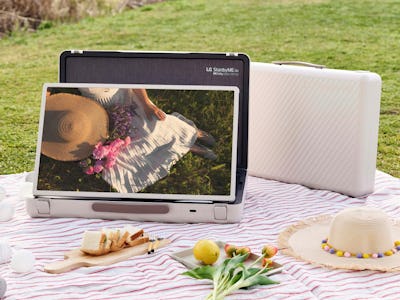 LG
The LG StandbyME (yes, the "Me" is always like that) was an idea that had legs, or in this case, wheels. A touchscreen TV with a stand that you could roll into a kitchen to look up recipes or near your bath to watch Netflix while you soak? I could be convinced.
But LG couldn't help but do more. Enter the newly announced LG StandbyME Go, which is a TV that folds out from a briefcase and is designed to, ostensibly, be taken on the go to campsites, picnics, and outdoor dinners. It's Korea-only for now, but like its predecessor, I can't help but feel that beyond the goofy press images, there's something to this idea.
The Ultimate Carry-On
The StandbyME Go has a 1080p 27-inch touchscreen display that can be titled 90 degrees to view content normally, laid flat and interacted with like a giant tablet, or rotated 90 degrees and used like a giant phone, presumably for viewing vertical video content like TikToks or YouTube Shorts.
The display itself supports Dolby Vision, and the built-in 20W speakers are Dolby Atmos-compatible and can intelligently adjust their output depending on which way you're using the screen. And how you'll use the StandbyME Go can really vary if LG's introductory video is anything to go by. Flat in its case, LG claims the TV can be used to play board games (you can even close the lid of the case to turn off the screen), act as a "record player" with a skin that shows a spinning LP when you stream music, or just be a webOS display with the streaming apps you'd expect.
Battery life only comes out to three hours when the StandbyME Go is off a charger, which is about the same as the rolling StandbyME, but the portability is the point here. And even though it doesn't seem entirely practical, there's a case to be made for a smaller display that's still big enough for multiple people to enjoy but that can be closed and put away when you're not using it. Think of it like a less expensive version of LG's rolling TV. I can't imagine myself ever taking the StandbyME Go camping, but for a studio apartment or watching something in a backyard or patio, why not?
Price and Release Date
The StandbyME Go will be available on June 7 for 1.17 million won (around $886). There's no word on when the LG StandbyME Go will start selling outside of Korea, but considering the original StandbyME did eventually make it to North America, there's a chance the StandbyMe Go will too.