Yes, This Really Is a Portable Microwave You Can Wear Over Your Shoulder
The MW001G can heat up to 11 lunches or 20 cups without any cords.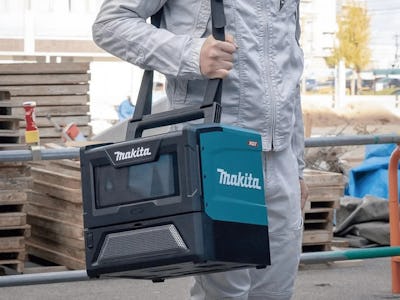 Makita
Makita wants everyone to have access to a hot lunch, even if you're nowhere near a power outlet. The Japanese company is known for its cordless devices like fans, power tools, and lights, but it has also ventured into cordless appliances for food and drinks.
The portable microwave falls under Makita's XGT product lineup of cordless power tools, but it serves an entirely different purpose. Still, it's not the first time that Makita has ventured into this niche world of portable appliances, as we can see with its cordless coffee machine.
Makita's cordless microwave is aimed at some pretty narrow demographics, like construction workers who don't have access to on-site electricity, off-grid campers who don't want to fiddle around with a camping stove, or those looking for backup appliances in emergency situations.
PORTABLE POWER
The Makita MW001G is powered by two 40V batteries that you connect on the back of the appliance. These batteries are the same ones that power most Makita tools, meaning you'll likely have a few batteries on hand at a work site.
The microwave has an 8-liter capacity, which isn't a lot of space but should be enough to heat up your lunch. Internally, the MW001G measures about 10 inches wide, 4.7 inches high, and 9.4 inches deep. There's a simple panel on top that lets you adjust the settings via buttons and dials. The microwave even has a USB-A slot in the back that allows you to charge your devices.
The Makita microwave only has two power options, 500W or 350W, but using the lower power option will give you more battery life. Makita says the MW001G can reheat up to 11 lunches or 20 200ml cups. You will need a fairly flat surface to perch the microwave on, though since it won't work otherwise.
As for portability, the MW001G weighs around 20 pounds and that's without the batteries. There's an included carrying handle that helps lug the microwave around, but you can also go for the optional shoulder straps to make it even easier.
DROPPING IN JAPAN
Makita priced its portable microwave at 71,500 yen or around $540 and is planning on releasing it in Japan first. That price only includes the microwave, not the batteries or charger. We're not sure if Makita has plans to bring the MW001G stateside yet.
That's a hefty price tag considering you can just buy a cheapo microwave that works fine, but sometimes power isn't readily available. In reality, this portable microwave isn't meant for most people but Makita wants to ensure that a certain demographic isn't deprived of the simple pleasure of a hot meal.