Leica's New Q3 Camera Goes Modern With a Tiltable Screen and Wireless Charging
Leica finally gets with the times.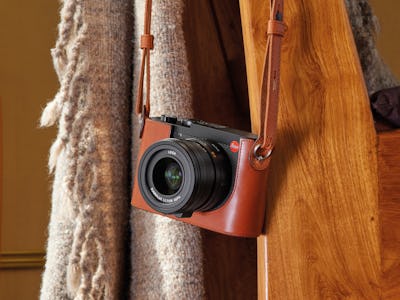 Leica
Just because Leica is a legacy brand doesn't mean it can't embrace change. Leica released the latest update to its compact Q series, the Q3 which comes with some crucial modern improvements.
It's been more than four years since the release of the Q2, but Leica has kept things fresh with collabs. It may seem like a while compared to other camera makers' multiple releases per year, but the spaced-out releases are par for the course since Leicas are designed to last a while anyways.
Leica did introduce a tiltable screen and wireless charging to the Q3, but the camera still holds onto the compact design that made the Q series great. The Q3 still looks like a great carry-around camera that packs a powerful sensor and more-than-capable lens, but that's of course if you can afford it in the first place.
Changing With the Times
Leica updated the Q3 with its BSI-CMOS sensor that uses a Triple Resolution design. You may remember this design from other Leica's like the M11, which allows you to either snap 60-, 36- or 18-megapixel images while still using the entire sensor for whichever option you choose. The Q3 can now record up to 8K video, too, in both H.265 and Apple's ProRes, making it easy to edit.
Leica paired the compact camera with its Summilux 28mm f/1.7 lens, making for a great street photography combo since it's wide and fast. You can even shoot macros with it since the lens has an integrated macro mode that has a minimum focusing distance of 17 cm. If you want more flexibility, the Q3 has a digital zoom that changes the native focal length to 35, 50, 75 and now 90 mm. The Q3 is still protected against dust and spray water with its IP52 rating.
The Q3 still very much looks like a Leica, but it features a tiltable three-inch display that doesn't feel very on-brand. Even more surprising, the Q3 can wirelessly charge through the Leica Charging Pad which also works with other Qi-compatible devices.
Price and Release Date
Leica's Q3 is already available at Leica stores, its website, and certain dealers for a starting price of €5,950, or around $6,400. That's no surprise but it still feels like a lot to drop for a camera. Leica has a reputation for being a hefty investment that pays off in the long run thanks to how well they hold up after the years.
For those who can afford Leicas, the Q3 is a notable upgrade from its predecessor. Even if you are a Leica purist, you have to admit a tilting display and wireless charging does make life easier in certain cases.