Most Drivers Aren't Big Fans Of Their Car's Infotainment Sytems, Survey Says
And with often unintuitive designs, who can blame them?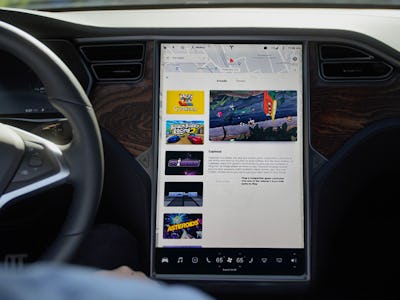 Tesla
Your car's infotainment system might be more high-tech than ever, but not everyone is loving the experience. According to a J.D. Power survey that looked at customer satisfaction, nearly half of drivers don't use their vehicle's native infotainment system.
That unwillingness to use a car's infotainment system, according to the survey, has also contributed to an overall decline in owner satisfaction.
SMARTPHONE SUPERIORITY
Looking at the numbers in J.D. Power's survey, only 56 percent of owners prefer using their car's built-in infotainment system to play audio. That's down from 70 percent last year.
It's a similar story for navigation and making phone calls. According to the survey, only 45 percent of drivers preferred the infotainment system when making phone calls, and only 43 percent when it came to setting up directions. Even worse, only 37 percent of drivers preferred using the infotainment system for voice recognition controls.
The survey noted an interesting caveat, though since cars made with Google Automotive actually scored higher than those without. That means carmakers like Volvo, Chevy, and Honda who have Google built-in are scoring higher than those with just Android Automotive's operating system.
While the survey isn't a great reflection of automakers' ability to offer compelling, easy-to-use in-car UI, it's not surprising that drivers avoid their infotainment systems when you consider the role smartphones play in our lives and in our cars.
Think about it: Navigation, music, and calls are all typically just a couple of taps on your smartphone — a device that most people can navigate blindfolded. That's stark competition for your car's infotainment display.
REPURPOSING THE INFOTAINMENT SYSTEM
With Google getting strong marks for its infotainment systems in various cars, we could see more tech companies designing operating systems for cars instead. Even Apple is looking at making CarPlay the entire operating system of a car, instead of just an infotainment system.
Of course, more ambitious EV makers are still trying to push wild infotainment systems as an avenue of innovation. Companies like Mercedes-Benz are making massive infotainment systems meant to serve multiple purposes, while industry stalwarts like Tesla are trying to attract use by adding video games or karaoke.