Every Vlogger Who Shoots with a GoPro needs the Volta Tripod
Part tripod, part battery grip, and part external remote, the GoPro Volta does it all.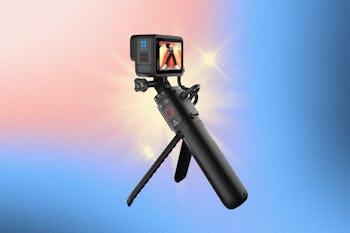 Inverse; GoPro
We may receive a portion of sales if you purchase a product through a link in this article.
GoPros are the go-to way to capture adventures. They're portable, rugged, and record high-quality, stable video. Best of all, they have such a simple design with just power and record buttons.
Sometimes though, you need a little more out of your GoPro. That's where all of the company's accessories come in, like tripods, mounts, and extra batteries. But the best piece of kit that GoPro sells is the Volta, a 3-in-1 tripod, battery grip, and external remote that expands any compatible GoPro from a regular action camera into an all-in-one vlogging and recording powerhouse.
Syncs in Seconds
Syncing up the Volta can be done in seconds by pressing the Bluetooth button and confirming the connection on your GoPro. For me, the most common use case for the Volta was propping up a Hero10 Black (also compatible with the Hero 11 Black/Mini and Hero 9 Black) on its two pop-out tripod legs. Even though the tripod is fairly short, it was plenty stable and managed to stay steady for hour-long recordings outside.
You do have to get a little creative at finding a decent surface to set up the tripod legs on since they're not adjustable. You can screw the bottom of the Volta into an actual tripod, though, since it has a threaded mount. There's some maneuverability since you can adjust the angle of your GoPro through the Volta's mounting fingers or its swiveling head. There are also mounting fingers on the side of the Volta that you can pop out with a button so the accessory can attach itself to other GoPro mounts.
Multipurpose Tool
The Volta is already a multipurpose tool, but its battery grip design served two major purposes for me: a monopod and an external charger. It felt very grippy and secure in my hand when I was recording some random bits of a hike in the Adirondacks. The monopod grip even has a wrist leash at the bottom of its stem, so I could take some cliffside shots without having to worry about dropping the GoPro and Volta.
With my GoPro hooked up to the Volta, the low battery warning was less stressful since I could just plug in the USB-C charger on long days of filming. Even after keeping the GoPro alive during the day, the Volta came in clutch afterward since it had enough juice to charge up my friend's Android phone on the car ride home. With such versatility, the Volta has definitely earned its spot in my camera bag, not only as a GoPro accessory but as a portable battery for any USB-C devices.
As an external remote, this was the function that I got the least mileage with. It came in handy when I set up the GoPro on a friend's helmet and was able to hit record through the Volta without having to fiddle around with the GoPro itself. However, I could see this external remote feature playing well if you already have some other GoPro accessories, like another tripod.
Some Downsides
Despite its versatility, I do have some thoughts on how GoPro could make a second-generation Volta even better. The tripod legs could be longer and I'd love to see a longer monopod grip to allow for reach that'd help fit more people into group selfies.
How about a way to film vertically like GoPro's 3-Way 2.0 accessory that has a swivel mount and ball joint that lets you set up for any orientation? I could really feel the limitation when trying to keep climbers in the frame for timelapse videos.
And if I'm being picky, the Volta was a little tricky to mount to the GoPro when I had the Media Kit attached. You can still screw the Volta in via the finger mounts, but it felt like the bulk from the Media Kit's case was in the way most of the time.
Weatherproof, Not Waterproof
There is a potential dealbreaker if you want an accessory that can handle the water as well as the GoPro itself. GoPro says the Volta is weather resistant, but not waterproof. It could probably handle a splash here or there, but I wouldn't chance it with anything beyond that.
That said, the Volta still squeezes a lot more functionality out of a GoPro. Whether it's setting up a timelapse or just getting more charge, the Volta gives you so many uses from a singular accessory. It may not be the best for any one purpose, but the versatility you get with the Volta makes it very much worth the $130 price tag.
Photographs by Jackson Chen