Leaked Pixel 7a Shows Why Google Software Matters More Than Specs
You don't need to see new hardware to know Google's next budget phone will get great software support.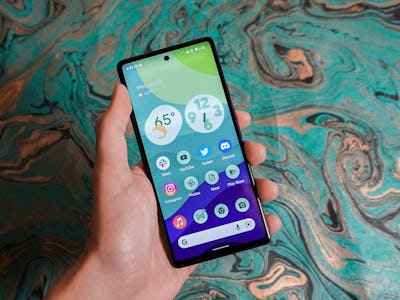 Photography by Ian Carlos Campbell
Well, we know what the Pixel 7a looks like. Thanks to an extensive leak from Zing News, which had hands-on time with a "test" version of Google's next phone, the promising mid-range device will likely have few surprises when it launches later this year.
But a solid budget phone from Google shouldn't necessarily be a surprise. Google has made it abundantly clear that it plans to support older Pixel devices with software updates for years to come, as sure a sign as any that buying into the Pixel lifestyle is just as much about access to Google's evolving vision of Android as it is unique hardware.
Familiar design
The Pixel 7a seems like it's cherry-picking the best of the Pixel 7 and bundling it in a more affordable package. The front screen is flat, 6.1 inches diagonally, and according to Zing News' source, capable of a 90Hz refresh rate, just like the Pixel 6a.
Along the back of the device, there's the same metallic "Camera Bar" as the Pixel 7 and Pixel 7 Pro, though with only two lenses — a 12-megapixel wide and 12-megapixel ultrawide. Google's experience with computational photography attempts to make up the difference between the mid-range Pixel and a phone like the Galaxy S23 Ultra's 200-megapixel sensor, but don't expect to be shooting RAW with the Pixel 7a. All in all, the Pixel 7a will be a Pixel 6a with some improvements Google brought to the Pixel 7 line — and that's the point.
Software support
The real story with the Pixel 7a is the software. This week's Pixel Feature Drop — Google's regular feature updates it releases between Android versions — brought a boatload of formerly exclusive features to older Pixel devices. The Pixel 6 and 6 Pro got the Pixel 7's improved night photography abilities, the Magic Eraser photo editing feature is now available on all Pixel phones, and Direct My Call, the skill that lets Google Assistant navigate phone trees for you, is on the Pixel 4a and up.
To be clear, the Pixel 4a was released in 2020 and now has the capabilities Google used to sell its flagship phones three years later. That's a testament to how efficiently Google uses Android and its cloud architecture, sure. But it's also a good sign the Pixel 7a doesn't need to launch with radically different hardware to be worth buying.
The tension between hardware and software really differentiates Google's smartphone from Apple's. If you buy an iPhone, you'll get iOS feature updates for just as long, if not longer, than your friend with a Pixel, but you might not see every new flashy iPhone ability make its way to your older phone. Apple balances hardware and software innovations differently. Almost all of Google's new smartphone ideas focus on Android and the software experience.
That well could change as Google develops more of its components, like the Tensor chip, and offers more hardware in general, like the Pixel Tablet. But for now, I don't need a big leak to know the Pixel 7a will likely be solid; I've already got a pretty good idea of the great software it will launch with.