Google Is Gearing Up for One of Its Biggest Years in Hardware Yet
There might be more to expect than just a tablet and new flagship smartphones.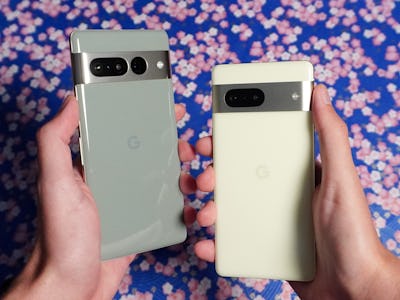 Photography by Ian Carlos Campbell
Google could have a pretty busy 2023 ahead of it. We already know the company plans to release the Pixel Tablet and new flagship Pixel phones (likely called the Pixel 8 and 8 Pro), but recent leaks suggest the company also has plans for its mid-range phones and entirely new form factors this summer.
Launching at least five new devices is undoubtedly one of the more ambitious hardware schedules Google's attempted. It might be what the company needs, though. If the narrative of Google's Pixel and Nest products has been a software company exerting control over its platform through custom hardware, this year could be when the company finally completes its ecosystem and offers a taste of Google software at every price point and form factor.
Pixel Tablet
Teased initially over a year in advance at Google I/O 2022, before giving a full introduction at the Pixel 7 launch, the Pixel Tablet is Google's latest attempt at making big screens work for Android. Google's tried this before, partnering with carriers to launch Honeycomb, the first version of Android designed to work with large screens, launching its own Nexus tablets, and even trying to sell Chrome OS in a tablet form factor. But the Pixel Tablet is a different beast.
Building on the success of the Nest Hub, the Pixel Tablet is supposed to launch with a dock that could essentially turn it into one. The tablet is designed to be used at home and carried from room to room, offering opportunities for content consumption and smart home controls in the same attractive package.
Pixel 8 and 8 Pro
Save for the one-in-a-million chance Google does something genuinely odd, it's a safe bet to expect new Pixel phones in the fall, likely in the October launch window Google likes to use to avoid the iPhone in September. There isn't much known about the Pixel 8 and Pixel 8 Pro, but we do have some idea of how they could evolve the design language Google's been chewing on since the Pixel 6.
Based on renders shared by OnLeaks and Smartprix, the Pixel 8 Pro features more or less the same look as the Pixel 7 but with a flat front screen, more aggressively rounded corners, and at least one additional sensor in the Camera Bar.
The Pixel 8, meanwhile, could get more or less the same treatment minus the extra camera sensor, according to what OnLeaks and MySmartPrice have shared. Ultimately these changes are a delivery system for whatever new software features Google plans on introducing, but if rounded corners make the phone slightly smaller and easier to hold, I'm all for it.
Pixel 7a
Google hasn't let out a peep as to whether it will continue to sell its A-series phones with the Pixel 7a in 2023, but considering they hit a sweet, sub-$500 price point and people are apparently walking around in Vietnam with them right now, it seems like we should see the sequel to the Pixel 6a soon. With so few hardware changes visible in the leaks shared so far, the bigger story for the Pixel 7a probably won't be tied to any hardware innovation and, instead, whatever improvements are coming in the next version of Android.
Pixel Fold
The most up-in-the-air of any product on this list is the "Pixel Fold," Google's long-rumored foldable. Roland Quandt of Winfuture reports that the folding phone has already shown up in online sales databases and could arrive in white and black finishes as early as June, with 256GB of storage.
There are plenty of good reasons for Google to offer a foldable. It keeps Samsung from being the dominant voice in the space, for one, but it also could benefit Google's overall app ecosystem — larger screens mean more tablet-friendly apps.
Not one of these products on their own is going to turn Google into a proper competitor to Samsung or Apple in terms of sales, but they do give the company a chance to offer a complete vision of what living in the Google ecosystem looks like — if you ignore the company's languishing Pixelbook line — and offer even more ways you could enter, be it tablet, or futuristic phone. For Google, a company that still ultimately gets by on people using its software products like Search and services that feed into it like Chrome, maybe that's enough.