Garmin Takes On the Apple Watch Ultra With Two New Pro Smartwatches
They both come with a built-in flashlight and extra pro features.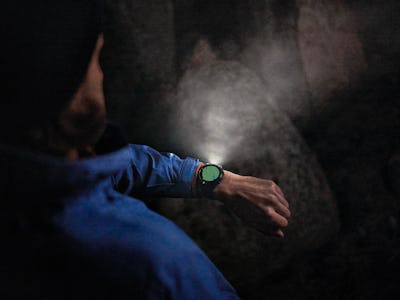 Garmin
Garmin is upgrading two of its smartwatches with "Pro" features, providing an alternative for those looking for something more functional than an Apple Watch Ultra. Garmin's two new Pro smartwatches, the Epix Pro Series and the Fenix 7 Pro Series, were upgraded with better mapping capabilities and new features to earn the expensive starting price.
It's not the first time Garmin has offered its smartwatches with a pro version, in an attempt to stay in competition with Apple's rugged smartwatch. Garmin does have the upper hand though, since it's been making outdoor-oriented smartwatches for much longer. Plus, you won't see a built-in flashlight on the Apple Watch Ultra.
A FLASHLIGHT ON YOUR WRIST
Garmin is keeping the AMOLED display with its Epix Pro Series, but making it available in three sizes: 42mm, 47mm, and 51mm. The Epix Pro is carrying over the built-in LED flashlight from the non-pro version but gets a new Red Shift Mode that makes things a lot less straining on the eyes when you're in darker conditions. Garmin says the Epix Pro will get 31 days of battery life to manage all the extra functions, like the "Up Ahead" feature that lets runners see if there are any upcoming checkpoints on the map.
For the Fenix 7 Pro, Garmin went with an improved MIP display that's still visible in the sun but has better readability in indoor conditions. Garmin put in a built-in LED flashlight, a heart-rate sensor, an ambient light sensor, a rest timer, and a bunch more activity profiles like whitewater rafting, motocross and overlanding.
Like the Epix Pro, the Fenix 7 Pro has a "Hill Score" feature that tells you how easy it will be to run uphill, an "Endurance Score" feature that measures how easy it will be to manage sustained efforts, and the Up Ahead feature. If you're looking for more battery life, the Fenix 7 Pro is the better pick since it has 37 days of battery in smartwatch mode, but 139 days of life in expedition mode. Garmin included solar charging in the Fenix 7 Pro so you can squeeze even more battery life out of the smartwatch.
MORE FUNCTIONS, MORE MONEY
Previously, the Epix only came in 47mm but Garmin has decided to open it up and make it available in its three standard sizes. The epix Pro starts at $899.99, while the fenix 7 Pro also comes in three sizes as usual and starts at $799.99.
For those looking for something with more features than an Apple Watch Ultra, these Garmin Pro smartwatches were designed to satisfy that goal. They may look a lot bulkier than Apple's rugged smartwatch, but Garmin's options make up for that.