Fiat's Next Sub-$30,000 EV Might Be Europe's Most Enticing
We're unsure if the Fiat EV will come to the U.S.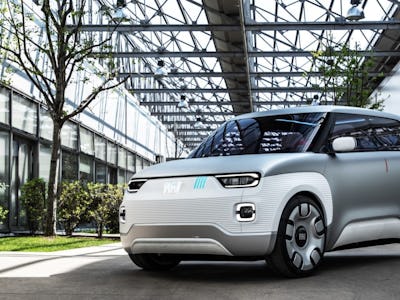 Fiat
Fiat is looking to corner the affordable EV market with an upcoming €25,000 ($27,500), urban commuter. According to a Bloomberg report, Fiat is working on an affordable all-electric model that will be based on its existing Panda hybrid EV.
For now, it sounds like this electric Panda will release only in Europe with no plans for the U.S. While we're not going to get our hopes up, Fiat is part of Stellantis which also owns American brands like Chrysler, Dodge, and Jeep, meaning there's a chance the upcoming affordable Fiat makes it to the U.S. eventually. After all, Stellantis is working with other major automakers to build an EV charging network across North America.
SIBLING EVS
Fiat's Chief Executive Officer Olivier Francois didn't reveal many specs to Bloomberg, only specifying that the affordable electric Fiat would share some similarities with another upcoming affordable city commuter, the Citroën e-C3.
Stellantis has shared its EV platforms between brands, so the electric Panda could be built atop the same platform as the e-C3. Considering the compact design of both, it's likely that both EVs would use the STLA Small platform that gets up to a 300-mile range.
THE DEMAND IS REAL
Bloomberg reported that Fiat would reveal its affordable EV in July 2024, which would follow Citroën's e-C3 release in early 2024. Currently, the only Fiat model that's confirmed for the U.S. is the 500e model.
With many more options in Europe and China, it's clear the U.S. is in serious need of more affordable EV options, particularly under that $30,000 range before federal tax credits. Even though Fiat hasn't dominated sales in the U.S., there's still a chance that the European brand can snatch up some customers who are desperately in search of a truly affordable EV.