How GM and BMW Could Dethrone Tesla's EV Charging Network
The EV charging network is backed by titans like GM and BMW and will offer both NACS and CCS connectors.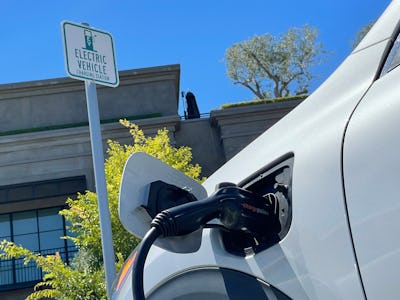 Justin Sullivan/Getty Images News/Getty Images
Automakers have fully embraced electric vehicles, working on everything from ultra-luxurious options to long-range grand tourers. But with the number of EVs coming to market, we will be in serious need of an expanded EV charging infrastructure to meet more demand.
To address that concern, a coalition of seven automakers is looking to make an EV charging network of their own. This joint venture would double the amount of EV chargers in the U.S. and Canada, rivaling the likes of Tesla's Supercharger network and third-party charging networks like those owned by Electrify America and EVgo.
Once fully built out, this upcoming EV charging network should do a lot to address the worry of potential EV converts about not being able to find a place to charge.
WHICH BRANDS ARE BEHIND THE CHARGING NETWORK?
The joint venture includes BMW, General Motors, Honda, Hyundai, Kia, Mercedes, and Stellantis. The seven automakers will be using private funds, as well as securing public funds, to build out their proposed EV charging network.
WHAT WILL THE CHARGING NETWORK LOOK LIKE?
For now, the joint venture says it will build an EV charging network with at least 30,000 chargers. These chargers will work with battery-powered EVs from any automaker and will include Combined Charging Standard and North American Charging Standard connectors. Outside the chargers, the locations will feature amenities like restrooms, food service, and retail options.
Eventually, the coalition of seven automakers wants this charging network to run solely on renewable energy since it aligns with each of their sustainability goals.
WHEN WILL THE EV CHARGERS BE BUILT?
The first stations that are part of this network will open in the U.S. in the summer of 2024, according to the joint venture. There are also plans to open locations in Canada at a later stage.
In terms of locations, the joint venture will be targeting spots in metro areas or along major highways first. It's aiming to have charging locations along major connecting corridors, but also vacation routes so there's availability for anywhere people live, work, or travel to.
CAN THE EV CHARGING NETWORK BEAT TESLA?
Even though it was just announced, the joint venture wants its charging network to be the "leading network" of high-powered EV chargers in North America. That means it'll have to beat out Tesla and its Supercharger network which currently has more than 34,000 chargers available across more than 7,000 locations in the U.S. and Canada, according to the U.S. Department of Energy.
With an initial goal of putting up at least 30,000 chargers, the upcoming network comes pretty close to Tesla. It'll be an uphill battle to challenge the already-established Supercharger network, which is also still expanding and has been opening up locations to non-Tesla EVs.
HOW DOES THIS LINE UP WITH TESLA'S NACS?
Out of the seven automakers who are behind the joint venture, only General Motors and Mercedes-Benz are working with Tesla through NACS agreements. Starting in 2025, GM and Mercedes-Benz will develop their EVs with NACS ports, and in the meantime will offer adapters to their customers so they can use Tesla's Supercharger network.
The others, including Hyundai/Kia and Stellantis, have said they are looking into adopting NACS but haven't outright committed to an agreement to work with Tesla. Now with this joint venture, building out a charging network that includes NACS could be a solution to embrace NACS without having to directly work with Tesla. Either way, EV drivers come out on top since both NACS and CCS will be accepted at the upcoming charging network.