This Electric Motorcycle With a Massive Battery Has an Eye-Popping 410-Mile Range
That's more than some EVs out there.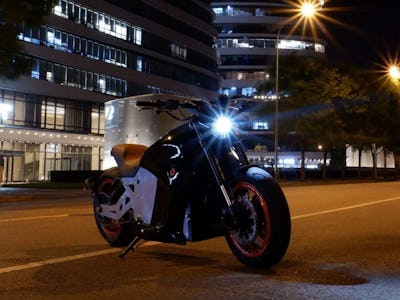 Evoke Motorcycles
The cross-country, zero-emissions motorcycle trip might actually be possible now.
Evoke Motorcycles revealed a long-range electric motorcycle that's able to get up to 410 miles on a single charge. Electric motorcycles aside, that range is an impressive feat for even EVs these days.
Evoke Motorcycles' 6061-GT really earns its grand touring name, beating out more well-known brands like Zero and its long-range DSR/X that gets 180 miles and the LiveWire One that gets up to 146 miles.
MADE FOR CRUISING
Evoke Motorcycles says its 6061-GT gets up to 660 km of range, or around 410 miles when you're cruising around the city thanks to its 29.7 kWh battery. If you're burning rubber on the highway, you get way less range at 331 kilometers, or around 205 miles. Even so, that easily beats out the competition and earns its title of one of the longest ranges on an electric motorcycle we've seen so far. On top of the range, the 6061-GT has a regen mode that allows the inverter to regain power from braking to recharge its battery.
Even with a huge battery, the 6061-GT only takes about 30 minutes to get up to 80 percent charge through DC fast charging. You can even use the standard AC outlet to charge up the electric motorcycle, but it'll take 12 hours to top off.
While the range is impressive, the motorcycle still packs a punch with 90 kW of power that translates to about 120 horsepower and a 200 km/h top speed, or about 124 mph. You'll still get plenty of kick with the 6061-GT since it can go from 0 to 62 mph in about 3.6 seconds.
SAY BYE TO RANGE ANXIETY
We may be seeing some fully-electric motorcycles pop up here and there, but the majority of them are meant for commuting around a city. With more modest batteries, a lot of the existing options aren't meant for road trips or long weekend cruises. All of that makes the 6061-GT stand out even more.
If you're already sold, Evoke Motorcycles' upcoming e-bike will cost you $24,995 and will come in black or green. The company says deliveries to the U.S. and Canada will start in April 2024, with orders opening for European customers sometime in early 2024.