BMW's New Electric Motorcycle Makes City Commuting Look Futuristic
The CE 02 can zip around a city at 59 mph and has a max range of 55 miles.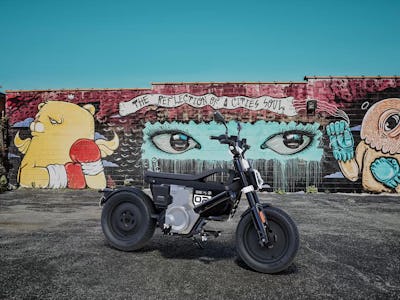 BMW
It's not quite an electric bicycle, but it's not exactly an electric motorcycle either. BMW is trying to reinvent this gray area with its CE 02 which it calls an "eParkourer."
The CE 02 will provide a much faster ride than an e-bike, but it won't offer the same power as a full-fledged electric motorcycle. BMW first revealed the CE 02 as a concept in 2019, featuring a design that's meant for getting around quickly in a city. While it's not as comfy looking as its sibling, the CE 04 which is more of an electric moped, it is more affordable.
DAILY DRIVER
BMW built the CE 02 with a max output of 15 horsepower. It may not sound like a lot, but it allows the e-motorbike to go from 0 to 30 mph in three seconds and top out at 59 mph. The CE 02 was built with two 1.96 kWh batteries for a max range of 55 miles. Once it's low battery, you can charge the e-motorbike from 20 to 80 percent in just under three hours using a standard household outlet.
You can adjust the CE 02 according to your needs since it has two riding modes, a Surf mode for cruising speeds and a Flow mode for an easier time riding in traffic. BMW is offering the CE 02 with an optional Highline package which adds the Flash mode that makes the e-motorbike sportier and more responsive. The Highline package also adds a faster 1.5 kW charger, Bluetooth interface, heated grips, and more.
All CE 02 trims will come with LED headlights, tail lights, and turn signals, as well as a 3.5-inch display with a USB-C port that lets you charge your devices. BMW is aiming for a smooth ride since the CE 02 will have Automatic Stability Control and an adjustable handbrake lever. If you're looking for max range for longer commutes, there's a power-saving mode that cuts down on speed but increases rage.
BRAND-NAME E-BIKE
BMW says the CE 02 will come to the U.S., starting at $7,599. That may be more expensive than some comparable electric motorbikes, but it's still more affordable than BMW's larger sibling, the CE 04 which starts at $12,195. The CE 02 will have two color options, both of which have a base of black but have different accents.