Sondors' Electric Dirt Bike Hits Metacycle Speeds — And It's Street Legal
The MetaBeast and the MetaBeast X will start shipping in October.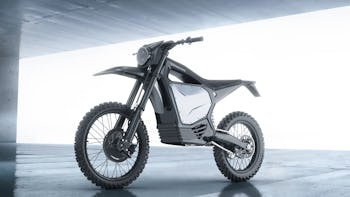 Sondors
Sondors is taking the distinct design of its Metacycle and combining it with some offroading capabilities. Appropriately named the MetaBeast and the MetaBeast X, Sondors' two new e-bikes top out at 50 and 75 mph respectively. Sondors' Metacycle was aimed at the city commuter, but the MetaBeast e-bikes will feel at home on offroading rides and city streets.
Sondors may be most known for its sleek Metacycle design, but the company also makes folding, mountain, and all-terrain e-bikes. Most of its other electric bikes had a fairly straightforward design, but it was the Metacycle that really carved out a name for Sondors. Not only did the Metacycle look good, but it came with a decent range and an approachable price tag of $6,500. Thankfully, Sondors is giving us even more options using the same design language as the Metacycle.
PRACTICAL POWER
Starting with the less powerful option, the MetaBeast has a peak power of 6 kW and a peak torque of 40 Nm. That means you get a max speed of 50 mph on an e-bike that weighs around 123 pounds. The 72V-30Ah battery means you'll get 44 miles on a full charge going at 25 mph. For the MetaBeast, Sondors says you won't need DMV licensing for this since it's meant more as an e-bike.
However, the MetaBeast X is definitely more of an actual motorcycle since it can top out at 75 mph. The upgraded version has a peak power of 18 kW and a peak torque of 60 Nm. Powered by a 96V-55Ah battery, you'll get 78 miles on a full charge while riding at 31 mph. The MetaBeast X is a significant amount heavier at 200 lbs, though.
Both the MetaBeast and MetaBeast X feature a single-piece frame that's similar to the one you see in the Metacycle. Neither of the new electric bikes is as fast as the Metacycle's Sport Mode, which can hit 80 mph, but the MetaBeast bikes are plenty fast for any offroading adventure you take it on.
RESERVATIONS OPEN
The more affordable MetaBeast will retail for $4,500, but Sondors is offering it for a cheaper reservation price of $3,000. The performance-minded MetaBeast X is a lot more expensive with a retail price of $8,000, but Sondors has also opened up reservations for $6,500. Both of the electric bikes come in black, gray, and green options.
Sondors says both the MetaBeast and MetaBeast X will start shipping in October. However, Sondors doesn't have the most reliable track record when it comes to estimated production times. The Metacycle was delayed a number of times, but it's finally making it to customers after starting shipping in August.