EcoFlow's New Portable AC Is Smaller, Cools Faster, and Also Heats Up Tents
The battery-powered Wave 2 AC/heater is an upgrade over the Wave in every way.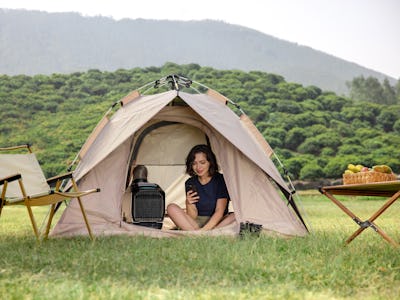 EcoFlow
When you're camping, you're sometimes at the mercy of rapid changes in temperature from day to night. That could mean waking up in a pool of sweat in your sleeping bag or having to bundle up so you don't freeze in your tent. EcoFlow understands the struggle and wants its Wave 2 portable AC and heater to help you conquer Mother Nature while camping.
EcoFlow first revealed its Wave 2 portable AC and heater at CES 2023, updating its previous design by adding a heating element and more cooling power. The Wave 2 is ideal for tent camping or living in an RV, but it can also serve as a way to cool down or heat up a room in emergency situations when the power goes out.
FAST COOLING OR HEATING
The Wave 2 gives you 5,100 BTU of cooling power and 6,100 BTU of heating power when it comes to a roughly 100-square-foot space. That power should be enough to cool a tent for six people, but EcoFlow says it takes about five minutes to either drop or increase the temperature by 18 degrees Fahrenheit.
The Wave 2 has an eight-hour runtime with its detachable 1,159 kWh battery. If you need more than that, you can pair the portable AC and heater with EcoFlow's portable power stations for up to 18 hours of cooling or heating. It'll take about an hour to recharge the Wave 2 to 60 percent and two hours to fully charge it via a wall socket. It can also be charged with your car's outlet, a power station, or solar panels.
You can program the Wave 2 with three modes: Eco, Sleeping, or Fast. Normally, the portable AC and heater produces about 56 dB of noise, but the Sleeping Mode brings that down to around 44 dB. The Wave 2 may be 22 percent smaller than EcoFlow's first Wave portable AC, but it packs more heating and cooling capacity in a 31-pound design.
GO GLAMPING
EcoFlow will make the Wave 2 available on May 15 with a starting price of $1,299. You'll also need the add-on battery that retails for $899 as well if you want to go fully mobile. The Wave 2 is $200 less than the original Wave's $1,499 retail price, but it's still a hefty price to pay for comfort.