ChatGPT Clones Are Flooding App Stores With Scams
Without an official app from OpenAI, scammers are taking advantage.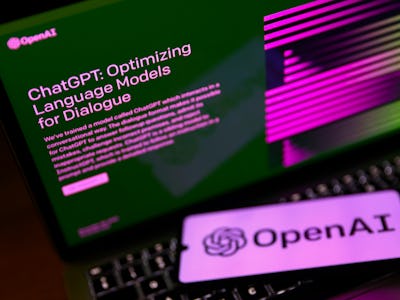 NurPhoto/NurPhoto/Getty Images
They say imitation is the highest form of flattery, and in some cases that may be true. But when it comes to ChatGPT, OpenAI's buzzy new chatbot, I'm not sure "flattery" is the word that fits.
Like any buzzy new piece of technology ChatGPT is now dealing with the inevitable dark side of its popularity: dozens of shoddy (and potentially dangerous) app clones.
No, seriously, app stores are flooded with them:
The existence of clones or copycats of ChatGPT — the same chatbot Microsoft has embraced in two major software products, Bing and Edge — should come as no surprise. Technologies like Stable Diffusion, and even OpenAI's own generative model, DALL-E, spawned a similar craze of iterative apps capable of generating AI art or editing photos.
The difference, however, is that lots of those apps are (or were) at least using the models that they were designed to piggyback off of. In the case of the rash of ChatGPT clones, however, OpenAI hasn't made an API publically available, meaning any app purporting to use its technology for its own purposes is flat-out lying.
If you're lucky, clones like "ChatGPT – AI Chat, AI Friend" and "Chat GPT: GPT based AI ChatGOD" on the Google Play Store will at least disclose (after some inspection) that they're using GPT-3, a previous, and less sophisticated model from OpenAI. Unlike ChatGPT, GPT-3 does actually have an API available.
Microsoft's app store suffers a similar problem. The top result after searching for "ChatGPT" is a downloadable app called "ChatGPT·AI." The corresponding description of the app — which costs $5.99! — is written in Chinese, but here's what a quick Google Translate offers up:
ChatGPT·AI is a local optimized version of ChatGPT. This version is optimized through the database, and the questions with existing answers are extracted from the database, which greatly shortens the answering time. The new questions are re-analyzed and saved in the database for the next question. Filter prohibited words, etc., to meet localization requirements.
On Apple's App Store, things are a little less blatant — copycat apps sidestep any direct connection to ChatGPT and go with names like "Genie - AI Chatbot" and "Chat AI - Ask Anything." Some of those also purport to use OpenAI's GPT-3 models.
The only thing worse than the disingenuous apps are copycats using the guise of ChatGPT for malicious ends. As noted by BleepingComputer, security researcher Dominic Alvieri has already called attention to the fact that some ChatGPT clones being offered on Google's Play Store come from so-called "developers" directly linked to phishing scams.
Researchers at Cyble, a cyber security firm, have already identified 50 separate apps using ChatGPT's likeness to spread scams. Clearly, GPT grifters have wasted no time.
Not every app clone is outright malicious, obviously, but even the disingenuous ones reek of half-baked scamminess. Some, with names like "Open Chat GBT" are clearly relying on poor misinformed souls to download the app and sometimes even cough up real money for "premium" features.
And even if a ChatGPT copycat doesn't succeed in charging for misleading premium features, scam developers can still make money on downloads alone. Many copycat apps, ChatGPT-related or otherwise, are stuffed full of ad serves that allow scammers to profit off of ad impressions alone.
Un-bot-hered
Are we surprised that ChatGPT is being used as an opportunity to bilk people out of money? No, not particularly. It's 2023 — where there's a will, there's a scam. But knowledge, even the unsurprising kind, is power.
So, before you go blazing into your preferred app store and tap the first ChatGPT-looking icon you see, just know that it is, beyond a shadow of a doubt, fake.
For now, OpenAI does not offer an official app, though that could very well change in the future. Here's to hoping it happens sooner rather than later — a verified, trustworthy, app could definitely help steer unsuspecting users away from scams. Until then, it looks like ChatGPT premium is the way to go.