Buick's New EV Boasts a Curved 6K Display
Buick's second EV is another SUV that's exclusive to China.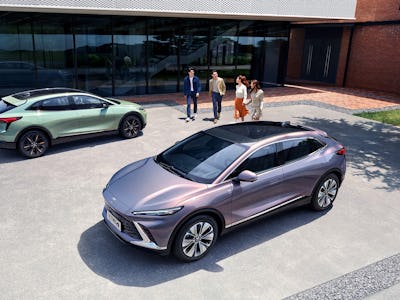 Buick
Buick may be launching its second EV, but like its first, we won't be seeing it in the U.S. just yet. The American carmaker introduced its Electra E4, making for another SUV in the lineup after the Electra E5 that was introduced to China in December.
While the Electra E5 was more of a mid-size SUV, Buick is targeting a younger demographic with the Electra E4 since it will offer a sportier trim. Both of these SUVs are part of Buick's plans to completely shift towards EVs with the Electra branding.
Buick may not carry the same weight in the U.S. as it once did, but it's hard to not be jealous of all its recent EVs introduced overseas. GM even previously showed off its EV sedan concept that uses Buick badging and features gullwing doors.
CURVED 6K DASHBOARD
The Electra E4 is unsurprisingly going to be built on its Ultium platform, which powers other EVs like the Cadillac Lyriq and the upcoming Chevy Silverado. Buick's standard model of the Electra E4 will be two-wheel drive and have an estimated range of 530 km, or around 329 miles.
The top-of-the-line Electra E4 offers all-wheel drive and adds a motor to the back for more horsepower and torque. This souped-up Electra E4 goes from 0 to 62 mph in around 6.2 seconds. Even though it's a more performance-oriented model, it still gets more range with an estimated 620 km on a single charge, or around 385 miles. It's worth noting that Buick's estimated ranges are going off of the China Light Duty Vehicle Test Cycle, or CLTC, which isn't as rigorous as the EPA's testing or the European counterpart, WLTP.
Buick is including all the common features we see in EVs these days in the Electra E4, like one-pedal driving, multiple driving modes, and driver assistance systems. Inside, the SUV will get customizable ambient lighting and a 1.2-square meter (about 13 square feet) large panoramic roof. As the centerpiece, Buick incorporated a 30-inch, 6K resolution curved display that can recognize gesture controls. The massive display serves as the driver's dashboard and infotainment center and gives a luxury feel to an SUV that's relatively affordable.
ACTUALLY AFFORDABLE
It may be just another SUV in the EV market, but the Electra E4 starts at RMB 189,900, or around $26,000, in the Chinese market. Even fully upgraded, the electric SUV goes up to RMB 259,900 or around $36,100, which is still more affordable than comparable SUVs from other brands.
We're not completely sure that Buick will introduce the Electra E4 to the U.S., but the company has previously said that it will have its first EV available to North America in 2024. Beyond that, Buick wants to offer only an all-electric lineup to the U.S. and Canada by the end of 2030. It's likely a safer move for Buick to gauge the appetite for its second electric SUV in China, but this form factor has traditionally done well in the U.S.