BMW's AR Glasses Are Designed To Make Motorcycles Less Dangerous
With a heads-up display, you can keep your eyes on the road.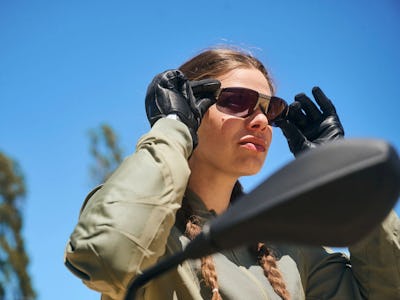 BMW
Augmented reality doesn't have to be reserved for just work or entertainment purposes. BMW is using AR to help make riding a motorcycle safer by designing a pair of smart goggles with a straightforward mission.
The ConnectRide Smartglasses project a heads-up display for riders, showing off important information like current speed, which gear the bike is in, and basic navigation instructions. BMW's AR glasses aren't as fancy as Apple's Vision Pro, but the simplistic design means riders never have to take their eyes off the road.
CUSTOMIZABLE FIT
BMW wants its ConnectRide Smartglasses to be comfortable for longer rides so they can come in medium and large sizing. The AR glasses can be further adjusted to fit different helmets and face shapes. The ConnectRide Smartglasses also come with two sets of lenses, one of which is 85 percent transparent so you can use it with helmets that have sun visors and the other with tinted lenses. You can even get BMW's motorcycle glasses with prescription lenses.
BMW says the ConnectRide Smartglasses will last 10 hours and can operate between -14 and 122 degrees Fahrenheit. They can even connect to your smartphone via Bluetooth where you can adjust how the projection sits in your field of vision on the BMW Motorrad Connected app.
COMING LATER THIS YEAR
BMW says the ConnectRide Smartglasses will arrive in the U.S. later this year, with pricing and more info to be revealed closer to the sale date. The AR glasses are already available in European markets for €690, or around $758. At that price, it's definitely an investment, but it makes for the perfect accessory to suit BMW's upcoming CE 02 or its CE 04 that's currently on the market.