Acura's First EV Is a Sporty SUV With 500 Horsepower
The ZDX will be the first Acura EV to wear the Type S badges, too.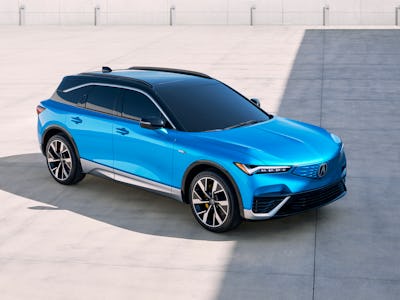 Acura
Acura may be late to the EV party, but it's really trying to make up lost ground with an all-electric offering that's slated to be its most powerful SUV yet. Acura debuted the ZDX during Monterey Car Week, which comes in a Type S trim that's reserved for its performance-focused cars.
We first got a teaser for the ZDX earlier this month, showing off its illuminated grille but not much else. Now that the ZDX is fully revealed, we can tell that Acura drew a lot of design cues from its Precision EV Concept that was shown off at last year's Monterey Car Week. The ZDX may be another all-electric SUV, but the Type S badges should help it stand out among the competition.
A SPORTY SUV
The ZDX A-Spec model will get an estimated 340 horsepower and come in both single-motor rear-wheel and dual-motor all-wheel configurations. Acura says the A-Spec model will get an EPA-estimated range of 325 miles.
The souped-up Type S will only come in a dual-motor all-wheel drive configuration that puts out around 500 horsepower. Acura also added height-adjustable air suspension, 15.6-inch Brembo front brakes, performance adaptive dampers, and six-piston yellow calipers to the ZDX Type S. The performance model will have different drive modes, including Sport Mode that gives you the max acceleration and responsiveness. The ZDX Type S does sacrifice some range for the performance though, since it gets 288 miles on a single charge.
Both models will be powered by a 102 kWh battery pack that can fast charge up to 190 kW. Acura says you'll get an estimated 81 miles of range through 10 minutes of fast charging.
ACURA WITH GOOGLE BUILT-IN
Inside, Acura went with a 22-inch touchscreen that will have the driver information cluster and the main infotainment system that's compatible with Apple CarPlay and Android Auto. The ZDX will be the first time Acura offers Google built-in, which means better integration with Google apps. For example, Google Maps will offer recommended charging stations along your route or estimate the necessary charging time to get to your destination.
Acura is also starting off its partnership with Bang & Olufsen with the ZDX, incorporating the 18-speaker system into the SUV. Both ZDX trims will have Acura's safety and driver assistance system that has features like Rear Cross Traffic Braking, Blind Zone Steering Assist, and Rear Pedestrian alerts. Specifically for the ZDX Type S, you'll also get AcuraWatch's 360+ system that lets you do hands-free driving on up to 400,000 miles of compatible roads.
Acura says the ZDX A-Spec will start in the $60,000 range, while the Type S models will start at $70,000. At those prices, the ZDX will go up against established electric SUV options like Kia's EV6 and the Cadillac Lyriq. Presale for the ZDX will start later this year, but Acura says the first customer deliveries are expected in early 2024.