Active Noise-Cancellation Is No Longer a Premium Wireless Earbuds Feature
If $60 ANC earbuds like the OnePlus Nord Buds 2 exist, then why pay more? We have some ideas.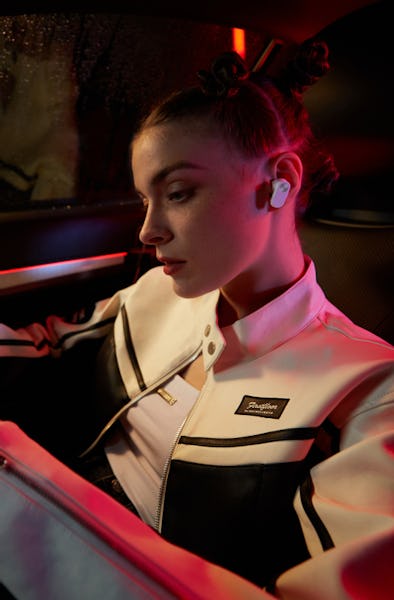 OnePlus
OnePlus' Nord Buds 2 seem like a pretty solid deal at $59. The successor to the company's first mid-range pair of wireless earbuds add active noise-cancellation (ANC) to a broader set of audio refinements and are available today, but the better story might be what they represent.
The Nord Buds 2 are possible proof that, yes, OnePlus can still put out an excellent mid-range product, but also that the formula for building wireless earbuds has fundamentally changed. Active noise-cancellation alone is not enough to differentiate a premium audio experience that retails for hundreds of dollars from one that costs $60. The baseline, and therefore the features you should expect, has shifted.
The New Entry-Level
The OnePlus Nord Buds 2 aren't a radical departure from the original Nord Buds (which OnePlus now sells for $39). OnePlus is careful to highlight the wireless earbuds' "broad bass" thanks to "BassWave Enhancement" and how an added layer of titanium "improves audio stiffness," but you're really here to block out background noise. The Nord Buds 2 offer ANC with "25db depth" and a transparency mode so you can listen to audio and hear the world around you at the same time. Table stakes for most wireless earbuds but welcome at this price point.
Regarding battery life, the OnePlus Nord Buds 2 lasts seven hours on a full charge or 36 hours with the charging case, both with ANC off. With ANC, that drops to five hours without the case and 27 hours with it.
So What's Premium?
Of course, there are cheaper ways to get ANC. In fact, you can find noise-canceling wireless earbuds for sometimes under $50. Which naturally leads to the question, what is a premium audio feature then?
It could be support for spatial audio or Dolby Atmos. Apple's third-generation AirPods have immersive, head-tracked audio built-in and charge $179 for the privilege. Support for spatial audio is a big part of the company's vision of a high-end audio experience, and similarly priced, third-party wireless earbuds have usually agreed and included Dolby Atmos or their own branded spatial audio product in the feature list.
The ability to easily find your lost wireless earbuds is also an extra to pay for, with Find My tracking included on all modern AirPods, Find My Device tracking on all models of the Pixel Buds, and in some cases even built-in speakers in charging cases so they'll screech if you're looking for them.
But both of those skills have begun to trickle down to cheaper wireless earbuds and, in some cases, have nothing to do with the hardware of the buds themselves. The real differentiator for an expensive audio device, when you can walk out and buy the OnePlus Nord Buds 2 for $60, will likely be personalization.
Both Nothing's Ear 2 and Apple's second-generation AirPods Pro offer audio personalization features, testing ear fit and personalizing spatial audio with an ear scan in the case of the AirPods, or customizing the sound mix in the case of the Ear 2. The benefits of these changes are harder to define — my colleague James Pero didn't notice a huge difference after the Ear 2's test — but so are most things that are personalized. And that gray area (with the potential for improvement) may be enough to push some $200 wireless earbuds.