4 Changes That Make Tesla's Updated Model Y a Major Refresh
Subtle changes in the refreshed Model Y make Tesla's EV worth reassessing.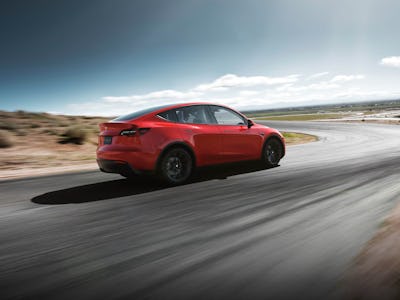 Tesla
In typical Tesla fashion, the EV maker has made its most affordable version of the Model Y available to U.S. customers without much fanfare. As seen on Tesla's website, a rear-wheel drive version of the Model Y with a single motor starting at around $44,000 can be configured for delivery to U.S. customers as early as October.
Tesla has already introduced similar models to its Chinese and Canadian customers, but this is the first time this alternate Model Y made it to the U.S. While it's not the major refresh that's slated to come out next year, this more affordable variant is still a solid entry point. Here's everything you need to know about this latest Model Y.
EVEN LOWER PRICING
On the Tesla website, the rear-wheel drive Model Y starts at $43,990 and replaces the recently discontinued all-wheel drive model that started at $47,740. Tesla still offers the more expensive Long Range and Performance editions of the Model Y, but this new base trim qualifies for federal tax credits and can be brought down to $36,490. That's before any state incentives, too.
At that price, this rear-wheel standard range Model Y sits alongside the refreshed Model 3 as one of the best value EV options. Tesla's updated Model Y will compete against the likes of Kia's EV6, Ford's Mustang Mach-E, and the upcoming Chevy Blazer EV.
LESS RANGE AND SLOWER CHARGING
This rear-wheel drive Model Y offers a range of up to 260 miles, which is significantly less than the Long Range model's range of 330 miles and the Performance model's 303-mile range. It's even less than the discontinued standard-range all-wheel drive option that had a 279-mile range.
Once you need to recharge, this updated Model Y has a peak charge rate of 170 kW, compared to the 250 kW charging rate of the other trims. If you're planning on using this as a daily commuter and will always charge at home, it shouldn't matter much. If you're on the road a lot, you may notice the minutes adding up with more frequent charging stops that also take longer.
SLOWER PERFORMANCE
You're paying for what you get here since the new Model Y also accelerates slower with a 0 to 60 mph in 6.6 seconds. That's significantly slower than the five-second dash from 0 to 60 mph with the base trim of the all-wheel drive Model Y that's no longer.
The latest Model Y tops out at 135 mph like the current Long Range trim, but obviously won't match the Performance trim's 155 mph top speed. This is likely due to the base trim's single-motor design.
NEW BATTERY CHEMISTRY
According to Bloomberg, Tesla may have gone with lithium-iron-phosphate (LFP) batteries for the more affordable Model Y. With the lower range and less power output numbers, that would make sense. Tesla has not stated the battery chemistry of the new Model Y, though.
It's not like Tesla is avoiding LFP batteries either, since the EV maker has been looking into using this battery chemistry as noted by its Master Plan that was published in April. However, LFP batteries have pros and cons as compared to the current nickel cobalt manganese batteries that Tesla EVs use.
We saw a similar difference with the Mustang Mach-E which will also adopt LFP batteries. For Ford, the battery change means lower prices since LFP batteries are cheaper to produce and more durable. The downsides come in the form of worse cold weather performance, less power, and less overall energy density when it comes to the battery itself. Still, those downsides are just the price you have to pay for a more affordable Mustang Mach-E or the latest Model Y.