5 Things We Just Learned About Tesla's Upcoming $25,000 EV
Spoiler alert: It's supposed to look like the Cybertruck.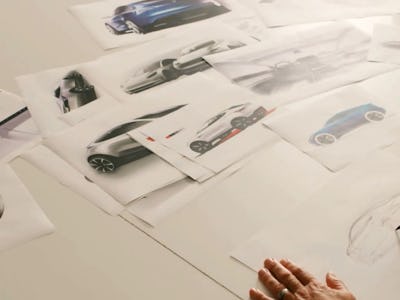 Tesla
We already know about the Cybertruck and the Roadster but everyone is eager to hear more about an actually affordable EV from Tesla that would sell for around $25,000. Now we have a better idea, thanks to an Axios report and Elon Musk's biographer, Walter Isaacson.
The report reveals a lot about the messy inner workings of Tesla but also confirms that Tesla is making a $25,000 EV that features a futuristic design like the Cybertruck. Along with the affordable EV, we'll also see a fully autonomous EV that will be built on the same platform as the $25,000 option.
Here are the five major takeaways we learned from what Isaacson divulged to Axios.
TESLA IS MAKING BOTH A $25,000 EV AND A ROBOTAXI
Tesla devotees have been waiting for the holy grail of affordable EVs from the company and the Axios report confirms that a $25,000 EV is indeed in the works. The Model 3 already offers a solid value at its starting price of more than $40,000 (before any tax credits), but a Tesla priced around $25,000 would be a lot more accessible.
The $25,000 EV was almost scrapped by Musk, according to the report. Isaacson says Musk was so dead set on delivering a robotaxi that he almost ditched plans to make the affordable EV, to instead focus on delivering a fully autonomous electric vehicle. In the end, Tesla execs were able to convince Musk to make this "small, inexpensive global car" to meet Tesla's annual growth target.
When this $25,000 will be announced and launch is anyone's guess, though. The very first Cybertruck just rolled off the production line and the Roadster is not expected to start production until the end of 2024.
BOTH EVS WILL USE A "NEXT-GEN" PLATFORM
To get Musk to agree to build the robotaxi and the $25,000 EV, Tesla execs convinced him they could build both EVs using a "next-generation" engineering platform, according to the report. The plan worked as Musk saw this as an opportunity to build a "high-speed, ultra-automated" manufacturing process for both EVs.
Tesla is already building out its Cybertruck in its Gigafactory Texas headquarters, so there's a good chance we'll see the facility expand to design and manufacture Tesla's upcoming EVs. This makes even more sense considering both of them will share a similar design.
BOTH OF THEM WILL LOOK LIKE THE CYBERTRUCK
For those who are still a fan of the Cybertruck look, the good thing is that both of Tesla's upcoming affordable and autonomous EVs will sport a similar, futuristic look. According to Axios, Tesla's chief designer, Franz Von Holzhausen, showed models of each EV to Musk in February 2023.
Both models will have a similar design to the Cybertruck, with harsh angles, clad in stainless steel, and an almost alien-like look. Upon seeing the concepts, Musk loved them and said that "people will think they are seeing something from the future," according to the report.
THE ROBOTAXI WON'T HAVE ANY CONTROLS
Just for the robotaxi model, the design would remove steering wheels, mirrors, and pedals to fully embrace an autonomous look. In theory, this design would solely rely on Tesla's Full-Self Driving tech. Musk did acknowledge the risk in designing it as a "clean robotaxi," but wanted to go "all in on autonomy."
Unfortunately, we're not sure the public is ready for that. Full-Self Driving has had a spotty history despite being a relatively new technology. There are ways around its safety checks, like using a stuffed animal, and the National Highway Traffic Safety Administration has opened several investigations looking at fatal accidents where Tesla models were involved. Hopefully, Tesla will have worked out all the kinks by the time its robotaxi releases.
YOU COULD MAKE MONEY OFF THE ROBOTAXI
It is being referred to as a robotaxi, after all. In the report, Musk says that Tesla owners would earn more than $30,000 by sending out their robotaxis to run errands or offer driverless rides to others. Tesla robotaxi owners would even be able to rent out their EVs on Tesla's car-sharing network, as revealed back in 2019. That would be one way to recoup the cost of buying the Tesla in the first place.