Ford's Latest Electric Mustang is the Perfect Mix of SUV and Rally Car
The sporty SUV still has rally-inspired elements to survive off-roading.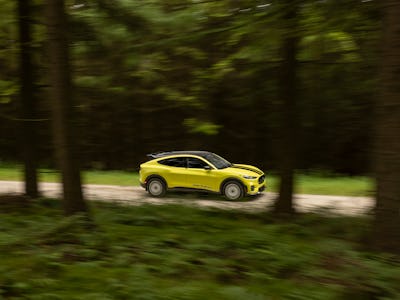 Ford
After first teasing it in camo during the Goodwood Festival of Speed in July, we now have a good look at the Mustang Mach-E Rally, and can tell that Ford was serious about making it ready for offroading.
Compared to the more practical trims of the Mustang Mach-E, this version screams rally car with its bright yellow paint job, white wheels, and rear spoiler. Still, the Mustang Mach-E Rally manages to seat five passengers so any friends can join you on your rocky road adventures.
BUILT FORD TOUGH
The Mustang Mach-E Rally runs off a tuned version of the Mustang Mach-E GT powertrain, which is Ford's more performance-based option. The two-motor layout means the Mustang Mach-E Rally is expected to get around 650 lb-ft of torque and 480 horsepower to handle accelerating out of those tight bends. There's even a RallySport Drive Mode that's meant for better control and handling when it comes to cornering.
Ford went with the same 91 kWh battery found in its other GT trims, which means the Mustang Mach-E Rally should get an EPA-estimated range of 250 miles. You can charge it up from 10 to 80 percent in just more than 36 minutes with a DC fast charger, though.
All of that is wrapped in a rally-inspired design that features 19-inch white alloy wheels, Michelin tires that have better grip with loose surfaces, and a rear spoiler that pulls from the Ford Focus RS. The Mustang Mach-E Rally will get an underside that has protective shields for both motors and will be wrapped in a protective film on the doors and fenders to reduce paint chips that you might get offroading. Ford even went so far as to include a recovery point that's built into the front end and has an included hook, just in case you spin out and end up stuck in a ditch.
MORE THAN A MUSTANG
Ford will be releasing the Mustang Mach-E Rally in blue, black, green, or this yellow paint job, while white and gray options will cost extra. No matter the color choice, all of them will get two racing stripes down the middle.
Ford says the Mustang Mach-E Rally will start at around $65,000 in the U.S., with exact pricing to be revealed when sales start. The rally-inspired electric Mustang will hit the U.S. market in early 2024, with deliveries expected shortly after that.