Ford's Next Electric Mustang Is an Off-Road Beast
This pony is finally getting its chance to run wild.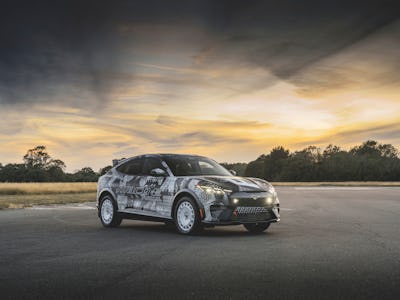 Ford
The Mustang still evokes an image of a classic American muscle car, but Ford is trying to expand that idea. To that end, Ford debuted its latest electric Mustang that's designed to tackle offroading with its rally-inspired design. Ford showed off a first look at the Mustang Mach-E Rally at the Goodwood Festival of Speed.
Ford says it's the first time in Mustang's history that it's doing an offroading design. Although, it's more of an upgraded trim of the electric Mustang Mach-E SUV. For one, this rally design does put the sport back in the SUV branding of the Mustang Mach-E. Surprisingly, Ford didn't use its Raptor branding that's already being used for its performance versions of other cars that are optimized for off-roading.
MADE FOR OFFROADING
Ford didn't reveal any specs about its Mustang Mach-E Rally, but we can see some new exterior inclusions with the photos. The Rally edition stays true to the original but looks like it gets new wheels and a rear spoiler.
We're expecting a motor upgrade with the Mustang Mach-E Rally since it seems to be a performance-based model. Since we have no specs to go off of, the closest comparison could be the Mustang Mach-E GT's Performance Edition package that gets from 0 to 60 mph in 3.8 seconds and has an EPA-estimated range of 270 miles.
AVAILABLE THIS FALL
Ford says the Mustang Mach-E Rally will be available to order this fall, coming first to U.S. and European customers. We'll likely see more details about the upcoming Mustang closer to its release, but we're expecting a price beyond the GT model's starting price of $59,995.
Ford is clearly looking to expand its Mustang Mach-E branding for its EVs, even though it faced a major recall due to faulty batteries last year. Even now, Mustang Mach-Es are sitting stagnant on dealer lots, according to a report from Business Insider. Still, this rally version of the Mustang Mach-E could draw some more customers to the brand.