SpaceX Starship: Why 4 Tiny Panels on the Dragon Capsule Are Critical to Mars Plans
They're hard to see but it's easy to understand why they're so vital.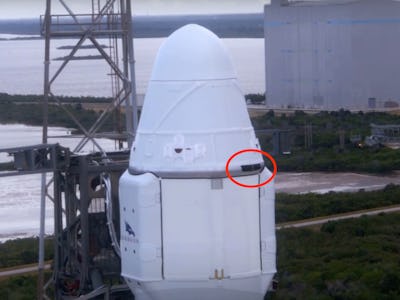 SpaceX
Nestled on SpaceX's Thursday mission to the International Space Station, a component that could one day help send humans to Mars was quietly being put through its paces.
The Dragon cargo capsule, loaded with more than 5,100 pounds of supplies to help astronauts conduct experiments on the ISS, sported a series of mysterious black tiles on its exterior.
These four ceramic heat shield tiles (see the photo below), located just above the Dragon's trunk, at the bottom of the capsule, were placed to help advance development of the Starship rocket that could one day support a manned mission to Mars.
"These test-only Starship tiles are being added to this mission to gather data in advance of flying crew on future Starship missions," Michael Andrews, who works on SpaceX's supply chain, said during the live feed for the CRS-18 mission. "This is similar to the addition of test tiles to previous CRS missions, to gather data in advance of flying people in our Crew Dragon vehicle."
It comes at a period of rapid development for the Starship, a stainless steel behemoth that measured 348 feet tall in its original September 2017 iteration. Its Raptor engines are designed to use liquid oxygen and methane, which enables astronauts to set up a propellant depot on Mars and refuel to return home — or even set out further into the solar system, establishing a network of depots for "planet-hopping."
The CRS-18 mission is not the only jump the Starship made on Thursday. Around 1,500 miles away, at the Boca Chia test site in Texas, a miniaturized version of the Starship leapt into the air by a few meters. The first non-tethered hop marked a milestone for both the Starship and the Raptor. Watch this Starship test hop in the video below:
Work is now underway on the first full-size orbital prototype. SpaceX is building two such prototypes, one in Texas and one in Florida. Those four little tiles on the CRS-18 mission could fuel this development further, paving the way for a manned mission to Mars and the establishment of a Mars city by 2050.
SpaceX CRS-18: How the Mission Paves the Way for Starship
Thursday's ISS mission is a routine feature of SpaceX's launch schedule. These capsules carry supplies necessary for astronauts on board the International Space Station to carry out experiments.
The 18th mission carried some rather bizarre items. Nickelodeon sent some slime into space to produce videos about the effects of microgravity, Adidas sent a ball to study aerodynamics, and Goodyear sent novel silica forms to spur tire development. In total, the 5,100 pounds of supplies is aimed at supporting more than 250 experiments.
The capsule lifted off from Florida's Cape Canaveral Air Force Station at 6:24 p.m. Eastern time from Space Launch Complex 40. Alongside the cargo, the Dragon sported the test tiles on the outside.
"It's also worth noting that SpaceX and NASA evaluated each test tile to ensure there is no elevated risk to tonight's CRS mission," Andrews said.
The Dragon was perched atop a Falcon 9 rocket, which successfully landed around eight minutes after launch on Landing Zone 1. Landing and reusing rockets is another critical aspect of both SpaceX's future missions and Starship's development.
CEO Elon Musk explained via Twitter that the team was testing "a possible Starship windward side ceramic tile. Maximizing emissivity is best for conductive/particle heating. Nice thing about steel is that tiles can be very thin, unlike carbon fiber or aluminum airframe."
Starship uses a stainless steel design to help keep temperatures down during missions. Musk explained in January how the rocket would use transpiration cooling to essentially sweat between the layers. Later that month, SpaceX was seen blasting a Starship heat shield at 2,000 degrees Fahrenheit. Musk later explained in March that the shields could work alongside transpiration cooling, meaning the ship could fly immediately without needing to repair.
"Thin tiles on windward side of ship & nothing on leeward or anywhere on booster looks like lightest option," Musk explained on Thursday.
Musk has previously suggested that the company will host a Starship presentation a few months after the first non-tethered hop test. From there, the company is aiming to launch its first Starship mission, a satellite for a telecoms firm, as early as 2021.
A mission around the moon could take place as early as 2023, featuring Japanese billionaire Yusaku Maezawa and six to eight artists.
From those early trips around the moon, the first unmanned mission to Mars could lay the foundations for a future base. Once the Starships have arrived, the company could send the first humans around two years later once Mars and Earth are aligned again.
Although the mission is expected to take up to six months each way, Musk suggested earlier this week that NASA could research nuclear rockets that would reduce these times dramatically.
Once a colony becomes viable, humans may have to start grappling with issues like Mars dwellers evolving due to radiation and the unique surroundings.