Musk Reads: SpaceX's Starlink Could Disrupt the Internet
Plus, Tesla Autopilot makes an unexpected appearance and autonomous driving draws closer.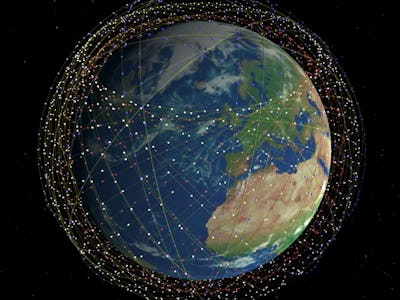 Mark Handley / University College London
SpaceX's Starlink could upend the internet; Tesla's autonomous driving choice gets a big show of support; and Tesla Autopilot makes a rather steamy appearance. It's Musk Reads #78.
A version of this article appeared in the "Musk Reads" newsletter. Sign up for free here.
Musk Quote of the Week
"Oh stop teasing, Jeff 😉"
Tesla
Tesla may have backed the right horse when it chose to use cameras over bulky lidar in its autonomous driving setup. Lex Fridman, who interviewed Musk about human-level A.I. in April, claimed that Tesla's vehicle could beat the likes of Waymo due to a more forward-facing approach. Tesla plans to upgrade its vehicles to support 1 million robot taxis by next year. Tesla also raised the price of its autonomous driving option from $5,000 to $6,000 this month ahead of a planned cross-country road trip this year. Read more.
In other Autopilot news, Tesla made an appearance on Pornhub this week, as one couple used this car to shoot a porn film. Musk's response? "Turns out there's more ways to use Autopilot than we imagined." Read more.
What's next for Tesla: Tesla is expected to launch its new insurance offering this month.
SpaceX
SpaceX plans its next major Starlink launch this week, sending up 60 satellites on a Falcon 9 rocket before the booster descends on the Of Course I Still Love You drone ship. The launch follows a February 2018 event where it sent up two test satellites to communicate with six ground terminals. The system, when complete, will use lasers to communicate between thousands of satellites with minimal latency. Read more.
The Starship also took a step closer to reality, as Musk teased a June 20 reveal date for the new stainless steel design. The ship is currently being built in both Florida and Texas, with a race to see which team is the fastest. The team plans to install landing fins by the end of next month. The ship is designed for all manner of ambitious missions, including a trip around the moon and a city on Mars by 2050. The teaser comes as Blue Origin's Jeff Bezos detailed his plans for a series of space colonies. Read more.
What's next for SpaceX: SpaceX's next Starlink launch is scheduled for May 15 at 10:30 p.m. Eastern time.
More Musk Reads From This Week
Why Humans Will Likely Mine the Rings of Saturn Until They Are Gone. Read more.
SpaceX: Why NASA Says That Crew Dragon Parachute Failing a Test Is a "Gift." Read more.
Living Bits of Human Organs Are Headed to Space to Save More Lives on Earth. Read more.
Photo of the Week
The Starlink satellites are ready to go.
The Ultra-Fine Print
This has been Musk Reads #78, the weekly rundown of essential reading about futurist and entrepreneur Elon Musk. I'm Mike Brown, an innovation journalist for Inverse.
Sponsor Musk Reads and get your business in front of a brainy, curious audience that's motivated to make the world a little better tomorrow.advertising@inverse.com.
Email me directly at mike.brown@inverse.com and follow Inverse on Twitter @inversedotcom. Follow me on Twitter @mikearildbrown.
A version of this article appeared in the "Musk Reads" newsletter. Sign up for free here.