Here's What It's Like to Have Sex in a Tesla Being Driven by Autopilot
"It's nerve-racking and a little difficult."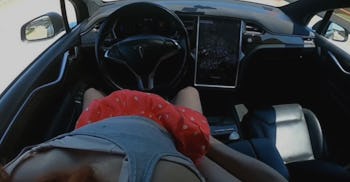 Taylor Jackson
It's not easy to go from porn-famous to actual-famous, but thanks to some savvy self-promotion, a can-do attitude, and access to the latest in driver assistive technology, Taylor Jackson — or Tesla Taylor, as she is now known on Twitter — may be able to achieve just that. A video clip from a scene she shot in a Tesla driving on autopilot quickly garnered millions of views on Pornhub, enough to get picked up by the mainstream press and, eventually, gain notice from Elon Musk himself.
"I never expected it to happen. When Elon Musk commented, my heart felt like it was going to explode. I was so excited; I never expected it." Jackson, which is her stage name, tells Inverse. "The reaction was not what I expected."
In a phone interview, Jackson and her boyfriend, who runs a business and asked to be referred to only as "the boyfriend," explained that the couple (and they are an actual couple) met on a dating service in December. Jackson began performing and modeling a few months later in February.
They first got the idea to try having sex with the Autopilot deployed during a long road trip. After weighing the success of this first verifiable instance of Autopilot-assistive banging alongside Jackson's ambition to get into modeling, a light bulb went off.
"We thought it would have been a hot video, and we thought there would for sure be something like that on Pornhub already," the boyfriend explains. "But there was nothing anywhere. So we thought this could be a really good video. We shot actually four."
"My ass hit the steering wheel and knocked it out of autopilot for a while." — Taylor Jackson
Their Autopilot experiment appears to already have paid off. When Inverse first reached out to Jackson, she had a few hundred followers — she now has something like 3,000 as of Friday afternoon, with more pouring in by the hour.
So what's it actually like, really, to do it in a (sort of) self-driving car?
"It's scary! It's a little scary … My ass hit the steering wheel and knocked it out of autopilot for a while," Jackson says. "It is a huge thrill. It makes your heart race, and it's fun to be in public. I'm sure people looked over. I loved doing it."
The pair says that, despite the fact that some people in Jackson's hometown have identified her, they plan to continue making similar movies. A sequel is definitely on the way, they say, and while they were a little demure about the details ("It's a surprise!" Jackson exclaimed), her boyfriend did reveal that their subsequent film will feature a third performer.
Now, before you run off and try this yourself, even Jackson and her boyfriend conceded that it's dangerous. Her boyfriend says he has been a Tesla owner for several years, and that while he did in fact take his hands off the wheel (I mean, you'd kind of have to), he did feel like he had to keep his eyes on the road for the entire encounter.
"It's nerve-racking and a little difficult," Jackson says. "I'm a very petite person … For people that are different sized, it's a little tight of a space."
Despite the danger, illegality, and tight quarters, many, many more are set to follow in this young couple's footsteps. Sixty percent of university students report having had sex in a car, according to a study published in 2016. That number is expected to rise sharply as autonomous cars begin taking to roads, enough so that autonomous vehicles are expected to some day replace "by the hour" motels and possibly even become the de-facto venues for sex tourism, according to a recent study in the Annals of Tourism Research.
While estimates for when these roving fuck machines will hit the roads varies widely, there is increasingly a strong consensus it will happen within the next two decades. By 2040, 75 percent of the cars on the road are expected to be autonomous, according to KPMG, a consultancy. If I were you, I'd spring for the tinted windows.