Fathers and mothers influence lifelong health in drastically different ways
Participants cited their fathers' alcohol and drug use as deterrents for themselves.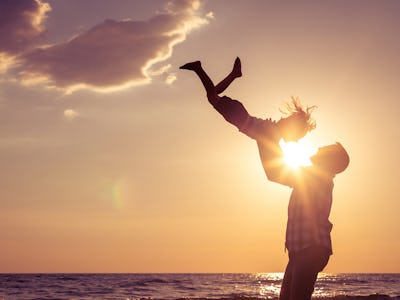 altanaka/Shutterstock.com
Parents mold and maintain their young children's physical and mental health, but how does that dynamic evolve as children enter adulthood? And what about when in-laws are thrown into the mix? A holistic study on 45 mid-life couples illuminates how these adult children-parent relationships affect lifelong health and found that even negative behaviors from parents could have a positive impact on their children's health.
The study was published this September in the Journal of Family Issues and used in-depth personal interviews to assess how partners viewed their relationships with both their own parents and their spouse's. The couples ranged in age between 40 and 60 years old, were predominantly white and affluent — which is a major caveat when it comes to widely applying these results — and had been cohabiting between 19 and 26 years. They were evenly mixed among heterosexual, gay, and lesbian couples.
The study found that the interview subjects most often turned to mothers — whether biological or in-law — in times of need for physical or financial support. The authors attributed this to a theory of "intensive mothering," in which mothers feel responsible for their children's wellbeing for their entire lives and will continuously work to provide support for them.
As far as a father's influence, they found adult children generally reported that their father had been less of a role model and more of a cautionary tale whose unhealthy habits motivated them to be better.
To reach these conclusions, the authors began with general questions about their parental relationships before edging into more direct questions about the self-perceived impacts those relationships had on their health.
While participants largely contended that their parental relationships had little impact on their health, between a quarter and a third of participants say their parents or in-laws did impact them to some degree.
This approach allowed participants to lead the discussions themselves, said Alexandra Kissling, the study's lead author and a Ph.D. student in sociology at Ohio State University.
"This allows the participants to drive the conversation so that they can tell us what is most relevant and important to them," Kissling said in a press release.
The authors also found that tensions between spouses and in-laws, often satirized in popular culture, were not necessarily the case in the couples they interviewed. However, mothers were usually called upon in relation to whichever spouse was in need.
"In our sample, it was unlikely that a person would call up their mother-in-law and ask for her to take care of them at home after surgery, for example," Kissling said. "They would call their own mom. But their spouse would find that helpful, because they could continue to go to work knowing that things would be taken care of at home."
While participants did say that they either anticipated or had had their fathers help during crises as well, fathers and fathers-in-law were also seen predominately as cautionary tales for their adult children, and in turn motivators for better health practices. In particular, several participants cited seeing their fathers face different types of substance use issues and as a result made certain that those same struggles didn't impact their lives as well.
"People discussed fathers' and fathers'-in-law addiction to alcohol and drugs as negative health examples, which encouraged them to make healthier life choices during their adulthood," Kissling said.
The negative health of mothers was also seen to motivate their adult children to make healthier choices, but more often it was in relation to physical ailments like diabetes and heart disease rather than mental health conditions.
And in terms of their own mental health, participants mostly cited that the physical ailments of either parent — especially when compounded with the sickness of a spouse — negatively affected their mental health because they felt either neglected by their spouse or unable to provide adequate support to both the parent and spouse.
Going forward, researchers say that these relationships should also be examined outside the relatively narrow scope of their study in order to assess the role socioeconomic status plays in these multi-generational relationships, particularly when it comes to intensive mothering, and how those relationships might change for families without disposable time and money to commit to supporting adult children.
Abstract:
Parents strongly influence children's health, yet how parents continue to shape the health of midlife adult children remains unknown. Moreover, while most adults are married by midlife, research has failed to identify the effects of parent-in-law relationships on midlife adult well-being. Using interviews with 90 individuals in 45 marriages, we investigate how midlife adults perceive the influence of parents and parents-in-law on adult child health. Findings reveal that particularly mothers and mothers-in-law positively influence child's health via support during, or in anticipation of, illness and injury. The health experiences of parents and in-laws, particularly fathers/in-law, become cautionary tales preparing adult children for future health issues. Yet parents/in-law also have negative influence on adult children during midlife due to parents' compounding health needs. We use family systems theory to show how parents/in-laws are intertwined in ways that influence health during children's midlife that has ramifications into later life.