Apple and Volkswagen's Self-Driving Cars: Everything We Know So Far
Not exactly what was promised.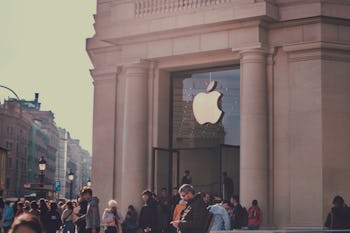 Flickr / Juanedc
Almost a year ago, Tim Cook described Apple's self-driving car ambitions as "the mother of all A.I. projects." Now, according to a report published Wednesday, Apple's autonomous vehicles will likely be the soccer mom of all autonomous car projects.
The New York Times reported that after long-standing talks with German automakers, BMW, and Mercedez-Benz fell through, Apple has partnered with Volkswagen to bring a fraction of their original self-driving car project to life.
Originally the initiative, codenamed Project Titan, set out to make cars with lounge-like interiors where people could sit back and relax as A.I. drives them to their destination. Now, according to three anonymous sources, the company intends on retrofitting Volkswagen's T6 Transporter into a self-driving shuttle to transport employees between two of its Silicon Valley campuses.
Much like other preliminary autonomous vehicles, a driver will be present to take control if an issue arises — a long-shot from what was supposed to be the MacBook in vehicle form.
The Times report claims that the Apple car team is buckling down to kickstart this shuttle service, but there is no vision as to what comes next. Hundreds of people have left Project Titan, which once consisted of a team of more than 1,000 employees. These are signs that Apple has severely downgraded the number of resources they are willing to pump into this project.
While work on this shuttle service has yet to begin, it's important to keep in mind that Apple already has a fleet of prototype autonomous vehicles at its disposal. The company retrofitted Lexus SUVs with sensors and self-driving tech that have been spotted. As of March, Apple has more self-driving cars in California than Google-owned Waymo.
So even though Project Titan has seen some major curtailing, Apple still hasn't thrown in the towel yet. Plus with Uber's self-driving car initiative on pause in Arizona due to a fatal car accident, Apple could use this to try and get ahead in the industry with more contained tests of their own autonomous car tech.