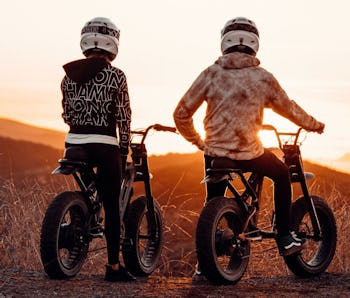 CES 2023
Once iconic radio maker RCA is now making e-bikes and e-scooters
Going from appliances and TVs to e-bikes was a brand arc we were not expecting.
RCA
It's been quite the ride for RCA, seeing its golden age making radio equipment in the 1920s and later solidifying its name brand with TVs and home appliances. Now, the consumer electronics company — apparently still alive and kicking — wants to get into electric mobility with e-bikes and e-scooters. Yes, really.
RCA launched its electric mobility lineup, previewing more than a handful of models at CES 2023. It looks like RCA isn't interested in dipping its toes in first since it announced seven different options at launch. The initial lineup will include three e-bikes and four e-scooters, each designed with for a different rider in mind. You have to respect RCA's confidence here, jumping into a market category that it doesn't have any experience with.
On the other hand, it feels like RCA is the latest company to pile on the electric mobility trend. There's no shortage of e-bike and e-scooter options out there already and RCA certainly isn't the only legacy company barging into the market. VinFast and Polestar, which are both more known for EVs, are looking to produce e-bikes. Other automakers like BMW, Bugatti, and Jeep are all along for the ride, too, but at least they have some experience in transportation.
It feels like RCA is the latest company to pile on the electric mobility trend.
Seven models to choose from — RCA's three e-bikes include the compact folding GoGo, the Explorer for daily commuting, and the all-terrain Dirt-E that was apparently inspired by Italian supercars. As for the four e-scooters, RCA will offer the foldable Vita, the more premium Cruiser, the high-speed City Rush, and the safer Power Kid.
RCA pretty much covered the gamut here with what potential e-bike and e-scooter buyers are looking for. We're not sure if anyone is rushing out to go buy these RCA-branded options, though. It's more likely that RCA sees this as an opportunity to make money off the U.S. electric mobility market which was valued at $28.5 billion in 2020 and is expected to continue growing.
Generic vibes — Overall, the RCA e-bikes and e-scooters don't really stand out too much. It's nice seeing that legacy logo, but the options look very comparable to what's already out on the market. Still, it might be worth it for RCA if it can get at least a decent slice of the money-making pie that is the electric mobility market.
RCA already listed plenty of specs for each of its models, but we still don't have pricing details yet. RCA says its lineup of e-bikes and e-scooters will be available at select retail locations starting late second quarter or early third quarter of 2023.
INVERSE brings you everything from the fun and futuristic world of consumer technology at CES 2023. For all the latest technology coverage from the show, go to the INVERSE CES 2023 hub.