Venba Is an Indie Delight to Savor on Xbox Game Pass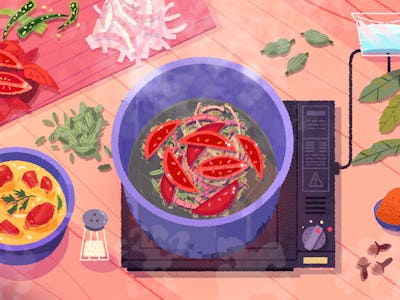 Visai Games
Before you press start on Venba, the new narrative cooking game from Visai Games, you should put in two Postmates orders, and with any luck they'll arrive at your house just as you finish this bite-sized experience. The first order should be a large Indian takeout order, and don't forget a biryani. The second order should be tissues and plenty of them.
Venba transforms the cooking simulator genre into a deeply touching immigrant story about the titular Venba and her family through the lens of the food they make and eat.
Cooking games before Venba typically fall into the puzzle genre in some way or another. Overcooked gives it a hectic co-op flavor, while Cooking Mama focuses on short minigames. Plenty of AAA games are also getting in on cooking, including Tears of the Kingdom and Genshin Impact. Venba keeps the puzzling of putting together the perfect dish but adds heart to the game's story.
All the food in Venba is traditional South Indian cuisine, as Venba and her family are Tamil. Having immigrated to Toronto in hopes of making a better life for themselves, Venba and Her husband struggle to find their place in a new land where jobs are hard to come by. On the verge of giving up and going home, Venba's pregnancy gives them a reason to stay. What follows is the life of the family, and how the relationship between parents and child changes through vignettes of cooking.
As a cooking game, the player hopes the food will look delicious, and Venba delivers this with flying colors. Every spice, herb, and slab of meat that you cook into gorgeous meals looks utterly mouthwatering. If you get a little too hungry the game can tell you more about the real meals and the ingredients you need to make them yourself. It's a small but welcome touch that brings the real inspirations of the game's scrumptious puzzles closer to the player.
The recipes Venba cooks are her mothers, all recorded in a tattered recipe book that has stains and smudges covering up some vital information. Venba (and the player) has to do guesswork in order to properly make the meal. It leads to simple but delightful puzzles, while narratively teasing at the threads of how Venba and her family feel disconnected from their home and the culture they left behind.
This becomes the core of Venba, though the food puzzles remain throughout and only manage to look more delicious every time. As immigrant parents, Venba and her husband Paavalan try to live with the sadness of leaving their home and feeling lost in the service of giving their son a better life, while simultaneously struggling as they watch said son distance himself from his culture. That means as he grows up, he stops wanting to eat the food his mother makes, and eventually, the divide between child and parents grows larger due to these cultural differences.
Venba's use of a single game mechanic executed well that directly ties to the story's themes is reminiscent of other recent indie darlings like 2021's Unpacking. The puzzles in Venba are necessary for the story to feel as impactful as it ends up being upon completion.
Though only an hour and a half long, Venba shows this family's story over several decades. There are moments of happiness and extreme moments of sadness, equally depicting the struggle of parent and child. It left me in tears, and also incredibly hungry — but happy that its one-of-a-kind story exists.
Venba is available to purchase on Nintendo Switch, PlayStation 5, PC, Xbox One and Series X|S consoles. It's also included in Game Pass for console and PC.