What you need to know about Scorn, Xbox Series X's most disturbing game
Have you ever wanted to wield an organic gun made of ... bones?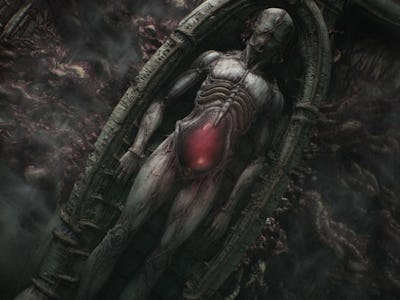 Ebb Software
While Microsoft's May 7, 2020 Xbox Series X presentation featured games like Assassin's Creed Valhalla and The Medium, the most memorable game from that showcase was Scorn, which turned heads with its cerebral horror. This disturbing game came out of nowhere with H.R. Giger-esque visuals, and its confusing trailer establishes the same kind of mystique that surrounded Hideo Kojima's Death Stranding prior to that game's launch.
A vague cinematic trailer was all that was shown during the Xbox Series X, but the developers followed up in October 2020 with a lengthy gameplay trailer. For anyone that still can't get some of the imagery from the game's reveal trailer out of their heads, here's everything you need to know about Scorn.
Is there a Scorn gameplay trailer?
Yes. A new gameplay trailer for Scorn was released on the official Xbox channel on October 21, 2020. It isn't a sizzle reel of cool moments; instead, it's a slow-paced 14-minute video showcasing uncut gameplay that's running on Xbox Series X.
Check it out:
In the video, we see the player navigate through Scorn's labyrinthine corridors that give H.R. Giger's visuals a fleshy aesthetic. It's a pretty disgusting game, as the gun they are using is seemingly made of bone and makes disgusting sounds when reloading. While it's slow-paced, the gameplay video also highlights how beautiful the game looks, the grotesque enemies that players will take on, and some of the puzzles players will have to solve.
When is the Scorn release date?
A release year was confirmed in the extended gameplay trailer released by Ebb Software on October 21. We now know that Scorn will be released in 2021. It seems to have been delayed slightly, as previous statements from the developers made it seem like Scorn would come out closer to Xbox Series X's launch.
In the press release that was released following May's Inside Xbox, the developers stated outright that "the game is planned for release during the Xbox Series X launch period," though a date wasn't mentioned in that trailer. Based on previous gaming trends, "launch window" could refer to any time between launch and the end of March 2021.
Ebb Software also explained in a Kickstarter update in May that they won't share a specific date until the developer is "100 percent sure [they] can deliver."
Another Kickstarter post released alongside the new gameplay trailer also gave reasoning for the 2021 delay. "We realize that is something most of you don't like to hear but it's necessary for delivering a great game," Project Manager Nikola Rakic said.
"The only thing that is important to us is creating the best game possible, and people enjoying it when it's released. We really hope to make something that is going to be well worth the wait." Hopefully, we don't have to wait too long into 2021 to try out Scorn. That said, an October 2021 release around Halloween would also be quite fitting.
Who is the Scorn developer?
Scorn is the first game from Ebb Software, a Serbian team formed in 2013. Scorn first emerged in 2014 and sought crowdfunding through Kickstarter. While its first attempt at crowdfunding failed, the game returned to Kickstarter in 2017 and was successfully funded. Video game fund Kowloon Knights have also invested in Scorn, though the game itself is still being self-published by Ebb Software.
Will Ebb Software release Scorn for PS5?
For now, it seems that Ebb Software is not planning a PS5 release. At launch, the game will be available for Xbox Series X and S (no Xbox One version of the game is planned), as well as PC.
A PC version was confirmed back during the game's 2014 announcement, and a Steam page for Scorn already exists. The PC version of Scorn appears to be on track right alongside the Xbox Series X version of the game. Game Pass owners will also be happy to hear that the game will be on the subscription service right at launch, which is an indication that the game may never come to Sony consoles.
Back in May, Scorn's Director explained why the team is only focusing on Xbox when it comes to a console release. "For us as developers, it's imperative to present Scorn in the best way possible. The distinctive art style is only half the story — the other half is having all the technical parts of the game running smoothly," Director Ljubomir Peklar explains in a press release.
"Xbox Series X is an extremely capable piece of hardware that will enable us to run Scorn at 4K 60 FPS with all the graphical bells and whistles," he said. "Ease of development and raw processing power are the primary reasons we chose to go exclusively with Xbox Series X."
If this statement isn't clear enough, don't expect Scorn on current-gen consoles like PS4, Xbox One, or Nintendo Switch ever, and not on Google Stadia or PS5 at release.
What is Scorn's story about?
Scorn puts an emphasis on world-building and will be non-linear. There won't be any cinematic cutscenes, according to its Steam page. The Inside Xbox trailer is full of procreative imagery, so that appears to be a topic that Scorn addresses. There is a focus on environmental storytelling, and Ebb Software describes the environment as "dreamlike" and "a character itself" in an Xbox Wire post about Scorn.
That post also admits that, yes this game is inspired by H.R. Giger, which is why it looks so much like Alien at first glance. Other notable influences pointed out by the developers include painter Zdzislaw Beksinski, writers Franz Kafka, Jorge Luis Borges, Thomas Ligotti, and J.G. Ballard, along with film directors like David Cronenberg and David Lynch. You can see the atmosphere in action in the following trailer from May's Inside Xbox:
What is Scorn gameplay like?
After October's gameplay trailer, we have a clear idea of what Scorn plays like. It is a first-person atmospheric horror adventure game that will have players traveling around its mysterious world to solve puzzles and fight enemies. While players can fight off enemies with weapons, inventory space is limited so players will have to use what they have to adapt to any given situation.
If you adore first-person horror games like Agony, Alien: Isolation, and Outlast 2, then Scorn should definitely be on your radar. That said, keep in mind that this is a slow-paced and unsettling game that definitely is not for everyone.
Is Scorn a two-part game?
When Scorn was initially pitched and crowdfunded, it was as the first part of a two-part game. The first part was going to be called Scorn Part 1 of 2: Dasein and was going to be released in 2018. Ebb Software's plans changed though, so this is no longer the case. As the developers explained on Twitter in March 2020, "once we received the proper funding we decide to do the whole game, not just part 1."
Since this change, Ebb Software has "reconstructed, redesigned and fixed a lot of things from Part 1 that we felt were lacking," and are now working "predominantly on the second part." So no, you don't have to worry about Scorn telling an incomplete story or just being the first entry in an episodic game series.
Scorn will be released for PC and Xbox Series X in 2021.
This article was originally published on