Assassin's Creed Valhalla release date, trailer, gameplay for the Viking RPG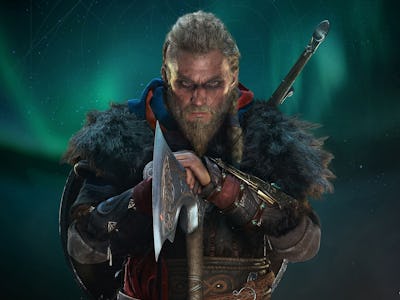 Assassin's Creed Valhalla has officially cast off. Ubisoft announced a release date for the Viking-themed installment of its adventure series during its Ubisoft Forward livestream event on July 12.
The announcement came with a brand-new gameplay trailer that gave viewers a more in-depth look at the title's combat, character progression, city building, and side characters. But many of these details might not have come as a surprise to gamers who caught the flurry of leaked footage of Valhalla that has been circulating online since early in July.
Valhalla is set during the Viking invasion of Britain around 873 CE, and it follows a tribe of Vikings looking for a new home. Players will take control of an influential Nordic leader who wants to expand his tribe's influence across Northern Europe. That will mean negotiating and coming to blows with the Anglo-Saxons who have settled across England.
Although the upcoming title is set in a completely different time period compared to the most recent Assassin's Creed Odyssey, Valhalla will build upon the concepts that have transformed the franchise from a stealth action series to a bonafide action role-playing game.
So what should gamers expect from the Nordic chapter of Assassin's Creed? Will it be nothing more than a God of War copycat or will it help Ubisoft rebound from what's been a rocky start to 2020 after it delayed a trio of games?
Here's every detail we know about Assassin's Creed Valhalla.
When is the Assassin's Creed Valhalla release date?
Ubisoft revealed on July 12 that Valhalla will be released on November 17, 2020. The game is available for pre-order on the company's website as well as on third-party retailers, like GameStop and Amazon.
Is there an Assassin's Creed Valhalla trailer?
Ubisoft released a look at Valhalla's gameplay on July 12, during its Ubisoft Forward livestream. All of the previous glimpses at the game have been cinematic and narrative-focused, so this latest announcement peeled the curtain back on what to expect when you boot up the game come November 17.
The company released a lighter gameplay trailer on May 7 showing off some of the game's environments during the Inside Xbox showcase.
Ubisoft also released a cinematic trailer for the Viking adventure on April 30 when the game was first announced.
What consoles will Assassin's Creed Valhalla be available on?
Assassin's Creed Valhalla will be released on the PlayStation 4, Xbox One, Windows 10, PlayStation 5, and Xbox Series X, Ubisoft spokesperson Youssef Maguid said in an April 30 press release.
Depending on when it's released, gamers might only be able to pick up a copy for available consoles (PS4 and Xbox One) at first. But once the PS5 and Series X are released, sometime during the 2020 holiday season, remastered versions of Assassin's Creed Valhalla will most likely be released for the PS5. But Series X gamers will be a bit luckier.
Thanks to the Series X's "Smart Delivery" feature, if they buy Valhalla on the Xbox One, they'll be able to play it on the Series X at no additional cost. PS5 users will need to buy a remastered version of the game if they want it on the next-generation console.
What do we know about Assassin's Creed Valhalla gameplay?
Ubisoft hasn't shown off any gameplay as of yet. Assassin's Creed Valhalla's announcement trailer was purely cinematic and did not reflect any in-game visuals. But even though we don't know what the gameplay will look like, Ubisoft has offered some insight as to what players will be able to do in a blog post following its April 30 announcement.
Play as a man or woman
The character players will control is named Eivor. While they're depicted as a man in the game's trailer, gamers will be able to pick their gender at the start of Valhalla, according to Ubisoft's Maguid.
"Playable as female or male, Eivor leads a clan of Norse people across the icy North Sea to flee Norway's endless war and dwindling resources."
Romance anyone you want
Ubisoft has made it clear that it wants Valhalla to deliver on a true role-playing experience, so that means letting players choose the sexual orientation of their character. The game's narrative director Darby Mc Devitt told Stevivor that players will be able to romance any non-player character regardless of Eivor's in-game gender, or simply abstain from relationships altogether.
"Yeah — there's a lot of romances to have that can be found all over the map and you can choose how to approach them any way you see fit."
In-depth dialogue system
Valhalla will turn the Assassin's Creed franchise into even more of an RPG by letting players build alliances, negotiate with the British empire, and talk their way out of battles when you're outnumbered. There won't be anything stopping players from choosing swords over diplomacy, but Maguid advised gamers to at least consider civil conversation.
"Violence won't be your only tactic for getting what you want; a silver tongue can be as effective as a steel sword when it comes to finding a home for your people. Shifting England's balance of power and expanding your influence through diplomacy will likely make you more friends than brute force. Every political alliance you build, combat strategy you employ, and dialogue choice you make will alter your journey."
Build and customize settlements
As Eivor, gamers will be building an empire, and that means players will need to bring some architectural and urban planning skills to the table to make sure their Viking towns are running smoothly.
"If they hope to survive, they'll have to build a new home in the hostile lands of England. There, you'll provide for yourself and your people by constructing, customizing, and upgrading your settlement with new buildings like barracks, blacksmiths, and tattoo parlors, all while recruiting new members to grow your clan."
Setting sail across Northern Europe
Historically, Viking raiders navigated the North and Baltic seas using their iconic longships that were built for speed and troop transport to execute attacks on enemy fortresses.
The Valhalla gameplay trailer featured numerous shots of the vessels, suggesting they'll be the main mode of transport for players as they expand their Viking kingdom. As one of their first objectives, gamers will shove off from Scandinavia to England, a journey only possible by boat.
"Our hero, Eivor, is a Viking raider who's going to leave the snow mountains of Norway for the lush rolling hills of England, propelled by the goal by settling their people and growing a thriving settlement," said the creative Director for Valhalla, Ashraf Ismail, in an interview following the Inside Xbox presentation.
While Ubisoft has yet to reveal a sailing system and Viking warship customization, there are some juicy hints in the trailer and blog post that suggest the return of one of the most beloved mechanics from Assassin's Creed IV: Black Flag.
Valhalla is trying to rebrand sidequests
McDevitt revealed at Ubisoft Forward that Valhalla will include "world events" instead of sidequests, claiming that the traditional extra missions would be "almost nonexistent." However, journalist Andrea Rene tweeted that she encountered plenty of in-game events that could be considered sidequests during her press demo sessions.
What has the leaked gameplay revealed?
Unreleased Valhalla gameplay footage has surfaced online and one specific bit of footage has got fans skeptical about the game's graphical and gameplay innovation.
This now-deleted clip shows Eivor embarking on a missioned titled "A Fury from the Sea," which looked akin to gameplay from Assassin's Creed Odyssey with some The Witcher 3: Wild Hunt inspiration thrown in.
The raid itself appeared to be larger scale than any of the battle seen in previous Assassin's Creed games, but the HUD and look of the gameplay looked like nothing more than a slight upgrade to Odyssey, which gamers were disappointed by.
What will the Assassin's Creed Valhalla plot be about?
We know very little about Assassin's Creed Valhalla's plot besides that you will play as Eivor who is tasked with expanding the Nordic empire. This might paint the Vikings as bloodthirsty brutes from the British monarch's point of view, but the trailer focuses on showing players how rich the Nordic culture truly was.
The main antagonist seems to be a British officer (who looks like an older, scruffier Ramsay Bolton) seen leading his troops into battle against Eivor's clan in the trailer. Based on the video alone, it appears that Valhalla will tussle with the concept of perception.
While the Vikings might seem like savage invaders to the British empire, they might be forced to look for greener pastures or risk being whipped out by the cold and harsh conditions of Northern Europe.
Assassin's Creed Valhalla will be released on November 17, 2020.
This article was originally published on