Nintendo Switch 2 Will Reportedly Keep Its Predecessor's Best Feature
On the go, at home, and everywhere in between.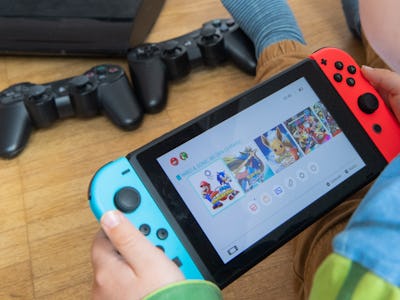 picture alliance/picture alliance/Getty Images
The successor to the Nintendo Switch is reportedly in production, but Nintendo isn't quite ready to talk about it yet. For years, rumors and speculation about the new system have circulated, but now, it seems we're actually starting to get concrete information about the console. With that in mind, a recent report states that the Switch 2 (or whatever it will be called) will retain one essential feature from its predecessor. .
According to gaming website Video Games Chronicle, the Switch successor will apparently be usable in portable mode. While the outlet's sources don't seem to indicate if it will be a hybrid system like the Switch, it seems likely, especially given the verbiage of the report.
"The next-gen console would be able to be used in portable mode," reads an excerpt from the report.
Releasing a new console with hybrid capabilities like the Switch would certainly make sense. Nintendo struck gold with its Switch system, partially thanks to its wide range of playstyles, from handheld, to TV, and tabletop. So, Nintendo likely won't want to stray too far from that core idea with its new platform, so as to replicate the success of its predecessor.
This also seems to confirm that the games for the new platform could be similar to those on Switch, possibly pointing to backward compatibility. We know the Nintendo Account system will carry over to the new device, and with the report of hybrid functionality, the Switch 2 may be exactly what many fans are hoping for: A souped-up version of the Switch.
While handhelds were seemingly dead back in 2017 thanks to mobile phones, Nintendo proved that portable gaming was still a force to be reckoned with. Now, other companies are attempting to take a piece of the pie, with hardware such as the Backbone remote play device, Valve's Steam Deck, Asus' ROG Ally, and even Sony's upcoming Project Q device flooding the market. But let's face it, no one does handheld gaming better than Nintendo.
The report also notes that the new console could ship as early as 2024, as explained by industry analyst Dr. Serkan Toto (who Inverse has spoken with on numerous occasions). "I would generally say that looking at Nintendo's financials, it seems clear that it's time for a new piece of hardware in 2024," he told VGC. "Hardware is already projected to fall 16.5 percent year-on-year in the current fiscal, while the minus for software is expected to hit 15.9 percent."
Toto says that Nintendo will need to release new hardware to make up for the projected losses. Offering backward compatibility and hybrid functionality would be a surefire way to hit the ground running with the new device.
Even after six years of Nintendo Switch, the novelty of being able to "switch" between handheld, tabletop, and TV has not worn off. It's a feature that works well alongside our busy lives, allowing us to play high-quality games no matter where we are.