New Games Coming Out in 2023: Starfield, Mario Wonder, and 8 More Exciting Releases
2023 will undoubtedly be one of the best years in gaming.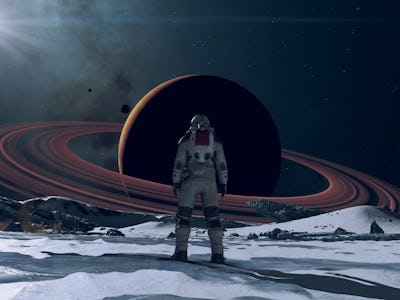 Microsoft
We've already been treated to an onslaught of excellent games in 2023, including Resident Evil 4 Remake, Hi-Fi: Rush, and The Legend of Zelda: Tears of the Kingdom. But the year isn't over yet and there are plenty of heavy hitters to look forward to from now until the start of 2024. These are the most exciting games coming out later in 2023.
10. Pikmin 4 (July 21)
First up is an underrated series from Nintendo — but one that will hopefully capture a large audience when it returns this summer. Pikmin 4 is a real-time strategy game with a ton of charm and personality. In it, you'll explore various planets and use adorable Pikmin to complete tasks while also saving other stranded explorers.
9. Mortal Kombat 1 (September 19)
The long-running series is back, this time with a reboot titled Mortal Kombat 1. While it'll play just like past installments, Mortal Kombat 1 takes place in a brand new timeline with reimagined versions of classic characters. Expect a robust story mode, along with brand-new Fatalities this time around.
8. Detective Pikachu Returns (October 6)
Pikachu has a new mystery to solve in this sequel to the 2016 game starring a coffee-addicted Pikachu tasked with solving cases in Rhyme City. Expect Detective Pikachu Returns to play very differently from the mainline RPG series.
7. Armored Core VI: Fires of Rubicon (August 25)
FromSoftware, the team behind the acclaimed Elden Ring, is currently developing something new — Armored Core VI: Fires of Rubicon. This action series has been dormant for a decade, but will finally return later this year, giving players a mech action game featuring large levels and massive bosses to defeat. It'll serve as a major departure from the Souls games, giving players a refreshing new experience to enjoy.
6. Assassin's Creed Mirage (October 12)
Taking place in 9th-century Baghdad, Assassin's Creed Mirage is a return to form, ditching the massive open world and RPG elements in favor of a more linear experience. Exploration will still play a role, but Mirage will be more akin to the earlier entries, which emphasize story, stealth, and parkour more than anything.
5. Alan Wake 2 (October 17)
Fans have clamored for a new Alan Wake game for over a decade, and Remedy has finally listened. Alan Wake 2 will lean into survival horror elements more than its predecessor while also doubling down on being a detective game, as players must piece together clues to uncover the rest of the story.
4. Forza Motorsport (October 10)
After taking several years off, Forza Motorsport is back with an all-new entry in the sim racing series. Simply titled Forza Motorsport, this game aims to push realism forward, with an emphasis on impressive visuals, life-like physics, and plenty of cars to choose from.
3. Starfield (September 6)
Starfield has been in the works for a long time and is shaping up to be Bethesda's most ambitious game to date. It will seemingly blend many elements from the developer's best games, resulting in a robust RPG experience with tons of things to do. It'll, of course, lean into RPG elements and exploration, while also sending players to the depths of space.
2. Super Mario Bros. Wonder (October 20)
Following the success of Super Mario Odyssey, many had assumed the next game in the Mario series would be a sequel. Instead, Nintendo is making a new 2.5D platformer called Super Mario Bros. Wonder. While there's still a lot we don't know about this upcoming game, it will seemingly play like the New Super Mario Bros. games, with a few twists along the way — like turning Mario into an elephant.
1. Marvel's Spider-Man 2 (October 20)
The sheer quality of Marvel's Spider-Man games cannot be overstated. Sony has delivered two incredible PlayStation experiences thus far. And now, we have Marvel's Spider-Man 2 to look forward to, which will allow players to take on the roles of both Peter Parker and Miles Morales. This time around, the Symbiote suit will play a major part, too, hopefully introducing an intriguing duality, just like in the comics.