Everything You Need to Know About FromSoftware's Armored Core 6
After 10 years, the mecha is back.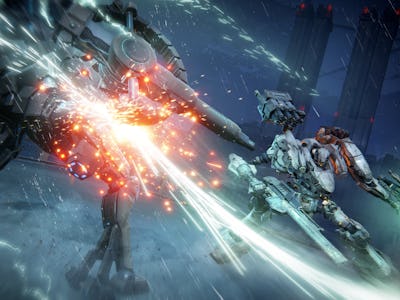 Bandai Namco Entertainment
Before there was Dark Souls, FromSoftware was known for a little mech series called Armored Core. And now, we know the next game in the series is called Armored Core VI Fires of Rubicon. It was revealed officially during The Game Awards 2022, alongside a CG trailer. While there isn't much we know about the upcoming game, we do know it's gearing up to launch sometime soon. But what can we expect from the next entry in the mech series? And when can we play it? Here's what we know about Armored Core VI Fires of Rubicon.
Armored Core 6 Release Date
Armored Core VI Fires of Rubicon will launch on August 25, 2023. Its release date was shared this spring, alongside a lengthy PlayStation Blog post, which highlighted many new gameplay details.
Armored Core 6 Trailer
There is a trailer! This was shown during The Game Awards 2022, and while it didn't offer any gameplay, it did give us a look at the visual style.
Then, FromSoftware put together a much more in-depth trailer that showcased its gameplay and features.
Armored Core 6 Gameplay
As part of the release date reveal, Armored Core 6's Director Masaru Yamamura had a lot to say about how this game will play. Yamamura noted that its pacing will fall somewhere between Armored Core 3 and Armored Core 5.
In addition, two new combat features were announced. The first, Assault Boost, allows players to swap between long-range gunfighting and close-range melee attacks with the push of a button. The second is the new Stagger mechanic, which rewards players for dealing lots of damage to enemies. Eventually, after an enemy has taken enough damage, it will "stagger," making it "vulnerable for a short time," Yamamura said.
Armored Core 6 will also feature large-scale boss battles, a slew of different enemy types, and the ability to customize your own mech.
Armored Core 6 Developer
Armored Core VI will be developed by FromSoftware, the team behind Dark Souls, Bloodborne, and Elden Ring. This was rumored in 2022 by ResetEra user Red Liquorice, who posted images from a supposed consumer survey held by FromSoftware. The developer later confirmed its involvement at The Game Awards 2022.
FromSoftware actually developed some of the recent games in the series, including 2012's Armored Core V. The upcoming installment will mark the first entry in the series in a decade.
Armored Core 6 Rumors
Currently, all the rumors shared ahead of time were seemingly confirmed by FromSoftware and Bandai Namco.
Initially, a ResetEra user shared information about a survey that revealed the game's existence before its official reveal. Likewise, a slew of leaks pointed to an August or September release date, which ended up being true, as well.
The last entry in the series was 2013's Armored Core: Verdict Day, which received mixed reviews and failed to make a commercial splash. But given how the gaming landscape has changed since 2013, and how much FromSoftware has grown in the past 10 years, now's a great time to try to bring the series back to the forefront.
Armored Core 6 Platforms
Despite launching in 2023, Armored Core VI will come to current and last-generation platforms including PlayStation 4, PlayStation 5, Xbox Series X, Xbox One, and PC. It doesn't appear like it'll be available for Nintendo Switch.
This article was originally published on