Armored Core 6 Reveal Looks Like Sci-Fi Elden Ring in One Epic Way
FromSoftware's next game seems more familiar than you might expect.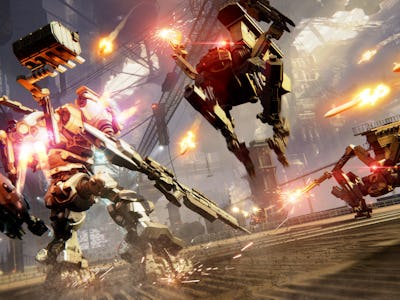 Bandai Namco Entertainment
FromSoftware, the same game studio that developed Elden Ring, has a sci-fi mech game in the works called Armored Core VI Fires of Rubicon. Following its reveal at The Game Awards 2022, Armored Core VI now has a release date of August 25, 2023. As part of its new release date reveal, the PlayStation Blog ran down a bunch of new details about the upcoming game, highlighting new and returning gameplay features. On the surface, Armored Core VI doesn't seem to share much in common with Elden Ring, but you can see a bit of resemblance in at least one way it's been designed.
There are many reasons to love Elden Ring, but arguably one of its greatest strengths is the variety and scale of boss battles. The best example is Starscourge Radahn, who towers over the player by a considerable amount. What might the Armored Core VI equivalent look like?
Armored Core VI will seemingly follow in Elden Ring's footsteps with its boss battles, giving FromSoftware fans something to look forward to. As noted in the Armored Core VI PlayStation Blog post, "The series' big boss encounters are back, and the metal monstrosities you'll encounter look bigger and more intimidating than ever."
This is an exciting announcement for players wanting more massive boss battles from the Dark Souls developer. Of course, FromSoftware isn't spoiling all the surprises, but we do know Armored Core VI will include "a rich variety of powerful enemies of all shapes and sizes," according to the game's director, Masaru Yamamura.
"Huge combat helicopters, heavily armored mobile turrets, and unmanned heavy demolition machinery that's programmed to indiscriminately crush intruders," Yamamura explained. Armored Core VI will offer a number of explosive battle experiences that challenge players to fight against the odds and overcome these ginormous, more abnormal mechs."
While the Armored Core series is no stranger to large-scale boss fights, we hope Fires of Rubicon pushes the envelope even further, with even more massive battles. Given Armored Core's emphasis on ranged combat, boss battles will likely play out much differently than in Elden Ring. Armored Core VI will have a new feature called Assault Boost, which allows players to instantaneously swap between long-range guns to close-range melee attacks, allowing for multiple playstyles.
We also know that combat will take place across "sweeping battlefields," perhaps setting players up for sizeable encounters with gargantuan enemies.
Despite Elden Ring's differences, one thing is certain: Armored Core VI will feel just as fluid and tight as FromSoftware's recent games.
"While the pace and structure of mech-piloting action fundamentally differ from other games in the studio's catalog, players can rest assured that the smooth, responsive controls they've come to expect in FromSoftware games is still here–just in a different context," said Heidi Kemps of the PlayStation Blog.
Armored Core VI Fires of Rubicon will surely rope in newcomers following FromSoftware's success. The latest Armored Core game will no doubt be a major departure from the studio's greatest hits, but given its newly announced features, FromSoftware fans will feel right at home with Fires of Rubicon.
Armored Core VI Fires of Rubicon launches for PS4, PS5, Xbox One, Xbox Series X|S, and PC on August 25, 2023.