Armored Core 6 Release Date Reveal Might Be Soon, Leaks Suggest
The game could be ready to launch this fall.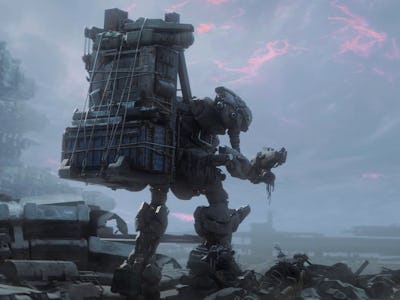 Bandai Namco Entertainment
FromSoftware's upcoming Armored Core VI: Fires of Rubicon is still shrouded in mystery, with very few details shared about it thus far. Following its reveal at The Game Awards 2022, its developer hasn't said much about the upcoming mech game, leaving fans unsure about when to expect it, among other key details. Now, a set of leaks might indicate that the game is further along than you might expect, hopefully hinting toward a release date before the end of the year.
Key Art Leaked
But what are the leaks? The first was originally spotted by Reddit user Eliwats17, who shared an image of what looks like official key art for Armored Core VI. We won't share the image here, but you can take a look at it in the Reddit thread. The user said they used the "Xbox pre-install trick" to grab the image, which another Redditor was able to replicate. These users apparently are able to pre-install the game ahead of its release, though, they aren't able to play it.
The image certainly looks official, though FromSoftware hasn't confirmed any details about the supposed key art.
As noted by OkamiGames on Twitter, the apparent install for Armored Core VI referred to above is for version 2.1.0.1, which is unusual since the game isn't out. Typically, games launch as version 1.00, so it's unclear if the version in the image is an error or something else.
Players are speculating that since the key art looks official, it's possible Armored Core VI will be ready for launch sometime soon.
Rated in Korea
Adding fuel to the fire, Armored Core VI was recently rated in Korea, being given a 12+ rating by the Game Content Rating Committee. This also indicates that the game is close to release, as it needs to be finished enough for the rating board to evaluate it for content.
Armored Core VI received its aforementioned 12+ rating for violence, which is on par with the rest of the series. Oftentimes, after a game receives its rating, it's usually out within six months or so, placing Armored Core VI's release in the fall of 2023 — possibly in October.
Assuming this is true, FromSoftware will no doubt show off more of this game soon, possibly during Summer Game Fest 2023.