Here's When Every Kombat Pack Character Arrives in Mortal Kombat 1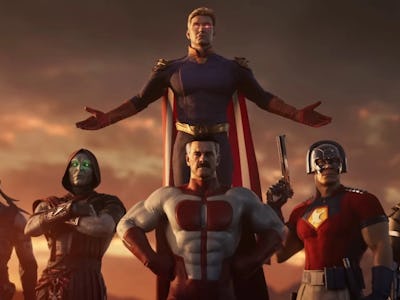 NetherRealm Studios
Just a month after the release of Mortal Kombat 1, developer NetherRealm Studios announced a schedule for the new characters joining the game in the Kombat Pack DLC. As usual for Mortal Kombat, the roster additions coming in the DLC are a mix of fighters from previous games in the series and some left-field picks from elsewhere in the world of pop culture.
Here's the full list of Kombat Pack fighters coming to Mortal Kombat 1:
Omni-Man – November 2023
The first new fighter coming to Mortal Kombat 1 is Invincible's Omni-Man. Once a beloved hero, Omni-Man is revealed to be a supervillain early in the comic and TV series, and his brutal methods make him a good fit for the Mortal Kombat roster.
Gameplay for Omni-Man was revealed with a trailer at the panel, which includes grisly Fatalities pulled from some of the most memorable moments in the Invincible comic and TV show. The trailer also contains some lines from J.K. Simmons, reprising the role of Omni-Man from the show.
Tremor, a Kameo character being added in the Kombat Pack, appears in Omni-Man's trailer. NetherRealm hasn't announced the timing for Kameo characters — who you can call to perform special moves in combat but can't directly control — but it seems that Tremor could debut alongside Omni-Man.
Quan Chi – Winter 2023
Next up is Quan Chi, who first appeared as a playable character in Mortal Kombat 4. Before that, he was a villain in Mortal Kombat Mythologies: Sub-Zero and the animated series Defenders of the Realm. Since his first appearance, the sorcerer Quan Chi has been one of the primary antagonists of the Mortal Kombat universe.
Quan Chi is already present in Mortal Kombat 1, so it's no surprise that the Kombat Pack will introduce a playable version.
Peacemaker – Winter 2023
Peacemaker joins Mortal Kombat 1 in the same release window as Quan Chi, but NetherRealm hasn't said how close together they'll debut. Like Omni-Man, Peacemaker is a comic book character turned TV star.
We've yet to see the Mortal Kombat 1 version of Peacemaker in action so there are still a lot of questions about how he'll be portrayed, but there is one important detail we do know. Mortal Kombat creator Ed Boon confirmed during this year's Gamescom that John Cena, who plays Peacemaker in the show of the same name and The Suicide Squad movie, will voice the character in Mortal Kombat 1.
Ermac – Spring 2024
Ermac is another returning character who already appears in Mortal Kombat 1's story mode. Fans of the original Mortal Kombat spread a rumor of a secret character named Ermac, and the developers eventually went along with the joke, introducing him in Ultimate Mortal Kombat 3. Ermac hasn't appeared in-game since Mortal Kombat X from 2015, but he was heavily referenced in Mortal Kombat 11.
Homelander – Spring 2024
Returning to the comic book theme, Homelander joins Mortal Kombat 1 from the world of The Boys. Just like Omni-Man, he's a superhero modeled after Superman who is actually a fascistic villain.
Unlike Omni-Man and Peacemaker, Homalander's casting still hasn't been revealed. While J.K. Simmons and John Cena were announced as Mortal Kombat 1 cast members at the same time, there was no such reveal for Homelander, whom Anthony Starr portrays in The Boys TV series. Another season of The Boys is on the way, with filming wrapped in April 2023. That could put a season four release date in 2024, so we may get an announcement of Homelander's voice actor around the same time.
Takeda Takahashi – Summer 2024
The last addition to the cast is Takeda Takahashi, a disciple of Scorpion. Unlike the other returning Mortal Kombat characters in the Kombat Pack, Takeda isn't typically an antagonist and he isn't already part of Mortal Kombat 1's story. We only got a glimpse of him in the Kombat Pack trailer, which shows Takeda looking very different from his appearance in previous games in the series. That may not be surprising given that Mortal Kombat 1 takes place in its own timeline, but so far we don't know what other changes are in store for his character.
Mortal Kombat 1 is available now on PlayStation 5, Xbox Series X|S, Nintendo Switch, and PC.