Spider-Man 2 Release Leak Puts the Game Head-to-Head With Starfield
A massive month for gaming.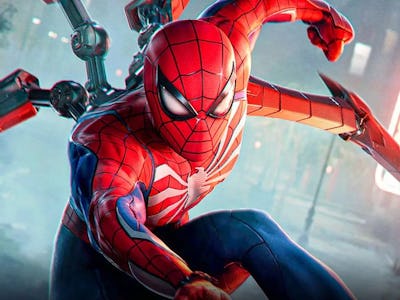 Sony
It's been a year and a half since the reveal of Marvel's Spider-Man 2 during a PlayStation showcase, and in that time Sony hasn't released one trailer or significant detail. Sony seems to be playing things intentionally low-key, but thanks to the game's voice actor for Venom, we might finally have an idea of when the highly anticipated sequel could hit.
Spider-Man 2's version of Venom is being voiced by Tony Todd, the renowned actor best known for playing Candyman in the cult horror hit of the same name. On Twitter, Todd posted a picture of himself in a mo-cap studio and a fan responded to the Tweet saying the sequel can't come quick enough. Todd himself then responded with a now-deleted Tweet that likely shared a bit more information that Insomniac wanted.
According to Todd, Spider-Man 2 is going to launch sometime in September, which does line up with the "Fall 2023" window that Sony confirmed at the end of 2022. What's odd is how little we've seen of the game considering it's set to launch in a mere five months. Of course, according to Todd, that's bound to change the month before, but there's also a separate rumor that recently stated Sony has a massive showcase planned in June just before E3 2023. If true, Spider-Man 2 will likely be the major focal point of the presentation, with a huge blowout featuring trailers and gameplay, and then even more marketing ramping up in July and August.
That certainly shows a bit of a shift in Sony's marketing plans, as the company traditionally shows off its games for months, sometimes years, leading up to release. For example, God of War Ragnarok received at least a new trailer every couple of months for nearly a year leading up to its release. It's likely Sony doesn't feel like this game needs as long of a marketing cycle, however, simply because it's Spider-Man, the most well-known superhero in the world.
If Spider-Man 2 is really released in September, that would put it squarely around the release of Bethesda's Starfield, the massive Xbox and PC exclusive launching on September 6, 2023. While it's easy to see a narrative about Xbox vs. PlayStation coming up because of this, there's really no reason to think either company should be worried about the other game releasing at that time.
Starfield and Spider-Man are drastically different games, and the superhero can draw in a mainstream crowd that most games can only dream of. At the same time, Bethesda has a massive built-in fanbase and its name being attached to a game is enough to draw in scores of players, especially when you can put "from the makers of Skyrim and Fallout" on the box.
In terms of development timeline, early work on Spider-Man 2 likely started shortly after the release of the original game in 2018, even though it wasn't officially announced until 2021. Even though Insomniac released Miles Morales within that time, both games are likely built on much of the same technology. The smaller scale of Miles Morales also likely helped Insomniac get a handle on PS5 development leading into Spider-Man 2.
At the moment, Spider-Man 2 is the only first-party PlayStation exclusive we know is coming in the second half of 2023. There are big third-party games like Final Fantasy XVI and Final Fantasy VII Rebirth, but it'll be interesting to see if there's anything else in the pipeline, or if Sony is going to put a massive push behind Spidey.