Sony Just Made a 2022 GOTY Contender Free on PS Plus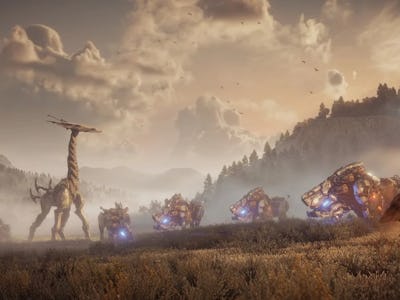 Sony
PlayStation is known for its tremendous exclusive lineup, with many games that focus on narrative, beautiful visuals, and engaging gameplay. While you've likely seen a lot of praise for the likes of Bloodborne, Uncharted 4, and Marvel's Spider-Man, one recent game doesn't seem to get the credit it deserves: Horizon Forbidden West. This is a game that launched around the same time as Elden Ring and was widely overshadowed by FromSoftware's open-world RPG. But now, Forbidden West is available as part of PlayStation Plus Extra and Premium, meaning there's no excuse to play one of 2022's best PlayStation exclusives.
Easy on the Eyes
Horizon Forbidden West is the follow-up to 2017's Horizon Zero Dawn (which unfortunately launched just a week before The Legend of Zelda: Breath of the Wild), once again sending players on a journey through a gorgeous open world full of robots. Forbidden West, just like its predecessor, is an action RPG, but takes place on the west coast of the United States with familiar locales including San Francisco.
Right away, Forbidden West is one of the most visually striking games out there, with realistically rendered character models that mesh well with the vibrant art style. It's an intriguing combination that simultaneously leans into realism without sacrificing style.
Everything in Forbidden West pops from the screen, from the wonderfully awe-inspiring vistas that seem impossibly vast to the menacing design of the robotic foes that stand in your way. These animal-like machines range from small ground-dwellers to much larger flyers, and even behemoth variants that tower overhead. Regardless of size, each machine feels handcrafted, with a believable design that truly makes them feel like they could exist.
Character models are impressive, as well, even down to the pores in their faces. The main character, Aloy, is arguably the most photorealistic video game character ever created, with stunning visual design, and true-to-life animations to match.
Forbidden West's art direction will no doubt grab your attention, but its gameplay will keep you hooked.
Familiar yet fun
Forbidden West doesn't necessarily do anything groundbreaking or new in terms of gameplay, but it does practically nail everything it aims to do. It features top-notch action combat (both with ranged and melee weapons), satisfying exploration, and a gripping upgrade system that will keep you coming back for more.
Combat, in particular, is a highlight, giving players lots of different ways to take down enemy machines. While much of the action revolves around ranged attacks with Aloy's bow, you can also get in close to dish out melee strikes, with much more variety than in the previous entry.
Likewise, new features such as the Shieldwing glider allow Aloy to easily maneuver around the world (while also letting you take in the jaw-dropping visuals). This entry also includes the ability to swim, with plenty of underwater exploration that adds more gameplay variety overall. Thankfully, the swimming mechanics work well, which is rare in the world of video games!
And of course, Forbidden West includes lots of familiar RPG systems such as a robust skill tree that lets you upgrade various abilities, while also incorporating a wide array of quests that never feel repetitive.
Forbidden West truly pulls from many beloved genres and combines them, resulting in a polished, gorgeous action RPG that deserves more love. Hopefully, it will garner more of an audience now that it's available on PlayStation's subscription service.
Horizon Forbidden West is available via PlayStation Plus Extra and Premium.