Horizon 3 needs to avoid Zero Dawn and Forbidden West's biggest mistake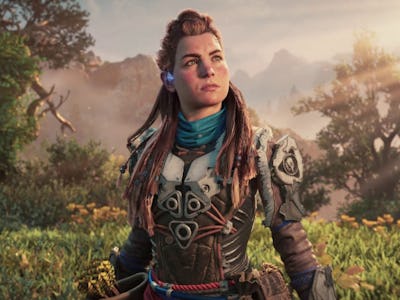 Sony
Timing is everything. Horizon Forbidden West, the sequel to 2018's acclaimed Zero Dawn, was one of 2022's best games. Inverse awarded it a 9/10, praising its stunning visuals, robust accessibility options, and immersive narrative. We'll no doubt get a sequel at some point in the future, but moreso than the visuals and mechanics, Sony has an even more important issue to address for the third outing in the series: its release date.
Horizon Zero Dawn suffered from launching so close to The Legend of Zelda: Breath of the Wild. Zero Dawn came out a mere three days before Nintendo's blockbuster and the Switch console on March 3, 2017. If Zero Dawn had been released at another time, it likely would have sold more copies, rather than getting lost in Zelda's shadow.
History repeated itself in 2022. Horizon Forbidden West released on February 18, just a week before Elden Ring on February 25. Elden Ring scooped up an absurd amount of awards over the course of 2022, including Game of the Year at The Game Awards 2022. It was also Inverse's Game of the Year. Once again, Forbidden West found itself relegated to the shadow of a massive blockbuster everyone saw coming a mile away. Even a week or two of distance would have helped Guerilla's open-world stunner stand out a little more.
Thankfully, it doesn't seem like the next entry, the VR game Horizon Call of the Mountain, will suffer the same fate, but considering it's exclusive to PlayStation VR2, it still likely won't draw a massive crowd.
Sony needs to carefully evaluate the timing of its next Horizon game. Sure, the company has yet to unveil an official sequel, but one is undoubtedly in the works as we speak. Given the exorbitant cost of creating a polished AAA video game today, a product needs to sell millions of copies to be deemed successful — and to warrant a follow-up.
Instead of releasing the next mainline Horizon game in February, it might be best to push it out to the summer, giving the series a spotlight of its own, for once. Horizon could reach even more players if it has less competition. Hopefully, Sony learns from this oversight from the previous two installments, and picks a better release window for Horizon 3.