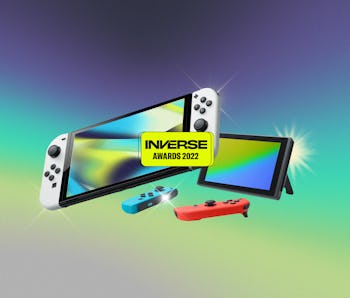 The Inverse Awards 2022
The 10 best Nintendo Switch games of 2022
Dewey Saunders/Inverse
Nearly six years since its launch, the Nintendo Switch shows no sign of slowing down. Nintendo's November 2022 financial report confirmed rising hardware sales, particularly for its newer OLED model.
The reason why is simple: Nintendo's stellar library of games, which only got better in 2022. While we didn't see a new Mario or Zelda this year, some truly outstanding titles came to Nintendo's hybrid console over the past 12 months. Here are the 10 best Switch titles from 2022.
10. Pokémon Legends: Arceus
Pokémon Legends: Arceus and its open-world game design earned it the designation of Pokémon's "Breath of the Wild." It was also one of the most ambitious franchise entries in recent history, diving into the ancient past of the Pokémon universe for the first time.
If you missed Arceus, think Pokémon but with dodge rolls and crafting (as if it were an action RPG instead of a turn-based one). Of course, Pokémon Legends still incorporated the typical turn-based battles and type advantages. However, it also reinvented the Poké-wheel with Strong- and Agile-Style moves. That, plus some genuine encouragement to catch as many different Pokémon as possible, shifted the focus in the game from battling to capturing in an immersive open world.
9. Kirby and the Forgotten Land
Kirby and the Forgotten Land brings back the classic Kirby adventures the franchise has been missing. Kirby is unexpectedly sucked out of Dream Land and into the New World, where he must embark on an adventure to save his Waddle Dee friends from this hostile universe and return home. In his review for Inverse, Chris Groux notes that while this might be a 3D platformer, it doesn't include any "trendy open-world game design."
Expect amusing new powers, exploration, and even co-op for a friend who wants to be Waddle Dee.
8. Fire Emblem Warriors: Three Hopes
Fire Emblem Warriors: Three Hopes takes the beloved cast of Fire Emblem: Three Houses and places them in an alternate world with a new antagonist: Byleth.
Shez, a young mercenary who once knew Byleth, swears revenge on the Ashen Demon after Byleth nearly kills them in battle. Shez saves the leaders of the three houses — Edelgard, Dmitri, and Claude — from a bandit attack (like Byleth did in Three Houses) and enrolls in the Officer's Academy. They then join one of the three houses and, as a result, the fight for Fodlan.
Don't expect the same experience as Fire Emblem: Three Houses, though. Three Hopes is a musou experience, not a strategy RPG like the original title. Also, there isn't as much smooching. You can bond with the characters as Shez and still experience different sides of them, but it's all platonic. The story also spends less time on the academy days and more on the war.
7. Xenoblade Chronicles 3
Xenoblade Chronicles 3 stars six soldiers from opposing sides on the run after they gain a mysterious power called Ouroboros. This allows pairs of them to fuse together into powerful, mech-like forms.
The countries of Keves and Agnus have been fighting for ages to fuel their "Flame Clocks" — the mechanisms that sustain their peoples' lives. The Keves special ops, including Noah, join forces with the opposing Agnus team to find out what Ouroboros can do to break the cycle of war.
But be warned, Xenoblade Chronicles 3 gave our reviewer emotional damage. It's one of our personal favorites because of the caringly crafted narrative, character arcs, pacing, and just about everything you would want for a gut-wrenching story.
6. Nintendo Switch Sports
Nintendo Switch Sports follows in the footsteps of the iconic Wii Sports, which revolutionized Nintendo sports games and helped turn the Wii into a mega-hit.
Switch Sports uses the Nintendo motion controls to start chaos and play sports as close to the real thing as possible. Note that because it relies on motion controls, you might need to wave your limbs in ways that might send a nunchuck (or the Nintendo Switch equivalent) flying across your living room. On the bright side, you'll have a fun alternative way to go bowling, play baseball, or enjoy whatever other sport you don't want to do in real life.
5. Mario + Rabbids Sparks of Hope
Finally, Mario + Rabbids Kingdom Battle (aka the game no one saw coming) has a sequel.
Mario + Rabbids Sparks of Hope is a charming tactics game starring your favorite Mario characters. Mario, Luigi, Peach, Rosalina, and their Rabbid counterparts each have their own abilities that players can take advantage of in strategic turn-based battles where they place characters on a chessboard-like map to take out the Rabbid enemies and venture through this odd alternate universe.
4. Bayonetta 3
Despite the convoluted controversy around its voice acting, Bayonetta 3 remains one of the best action RPGs to grace the games industry this year.
It stars the Umbra Witch herself alongside a clumsy but charming new hero, Viola. Expect sophisticated, responsive combat controls where you time dodges to activate Witch's Time, summoning demons with the new "Demon Masquerade" combat feature, and lots of campy cutscenes that may or may not disappoint.
3. Trails from Zero
Our reviewer called Trails From Zero the "most important RPG release of the year" for a reason. Outsiders might feel intimidated by its connections to the other Trails games, including Trails of Cold Steel and Trails of Sky, but it's actually a self-contained experience.
In Trails From Zero, Detective Lloyd Banning has been recently assigned to the Special Support Section of his local police force. He soon learns that joining the SSS means everything from saving cats to saving lives to uncovering a cultish plot that could endanger the world.
2. Persona 5 Royal
Persona 5 Royal used to be exclusive to PlayStation. But in 2022, Nintendo diehards can finally experience the stories of the Phantom Thieves firsthand.
Our hero, "The Joker," just transferred into a Tokyo high school after being kicked out of his old one for attempting to stop a sexual assault. He quickly befriends the local misfits, and they discover a mysterious app that transports them into the weaponized consciousnesses of a corrupt authority figure. Your job? Help Joker navigate the academic and social woes of high school and fight monsters in these subconscious castles.
1. Splatoon 3
Splatoon 3 is many things. It's an eSport. It's a meme marketplace. And it's an all-around solid family game. Nintendo's kid-friendly online shooter provides quality-of-life upgrades, as well as a charming story that makes it the definitive Splatoon experience.
Think you don't like shooters? Splatoon 3 just might change your mind. You don't need to crawl on the ground in muted, muddy landscapes and worry about accidentally stepping on a claymore. Also, you might find some amusement in the funny memes users are painting all over town.
Inverse celebrates the best of the best in entertainment, gaming, science, and technology of 2022. Go to the Inverse Awards hub.