FF7 Rebirth Producer Just Dropped a Massive Aerith Clue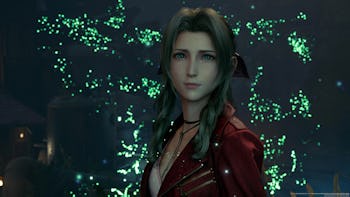 Despite ranking among the greatest games of all time, the original Final Fantasy 7 still had its fair share of bugs, weird errors, and wonky translation moments — like the infamous "This guy are sick" line from Aerith. A new interview from VG247 with Final Fantasy 7 Rebirth producer Yoshinori Kitase seems to hint there's much more to a notorious glitch than originally thought.
Warning: mid-game spoilers ahead for the original FF7.
If you're unfamiliar with "Ghost Aerith," there's a specific moment in FF7 where you can see Aerith's character model in her church late in the game, long after her demise. The scene only activates after beating Jenova LIFE, but the party won't actually be able to return to Midgar until Cloud rejoins after the events in Mideel. At this point, if you return to the church, Aerith will come into view in the flower bed, but she'll flicker and disappear after you step on a specific spot on the ground, and she'll never reappear.
There are some other weird elements to the event as well, such as it not being able to trigger at all if the player talks to the innkeeper during the Kalm flashback and selects "let me know the situation in town." The Final Fantasy wiki has more details on its official page for the event.
The way Aerith disappears led many to believe it was her ghost, but the touchy nature of getting the event to activate also made it seem like it could simply be a bug or glitch that was never fixed. VG247 asked Kitase if he could explain the nature of this event, to which he simply replied "I will leave this to the players' imaginations."
Kitase's non-answer seems to suggest there's at least something more to this than a bug. Why wouldn't he acknowledge the glitch, unless it was relevant to the Final Fantasy 7 Remake project, in some way.
Part of this could be the fact that Aerith in the Remake seems to have previous knowledge of the original game, Advent Children, and everything else. This begs the question of just who this "version" of Aerith is, and how does she have this knowledge? Perhaps she's the same Aerith from the original game who has found a way to travel to another dimension. Perhaps she's the Aerith of the Remake world who was contacted by the Aerith of the original game?
If that's the case, it's easy to see how the ghost scene could prove important, as Aerith having some kind of ethereal body might let her travel through time or dimensions.
At the moment we don't know if there are alternate dimension shenanigans or time travel going on with the Remake project, but the prevailing theory is that these new games are acting as a "sequel" to everything that's come before. We've already seen Remake deviating from the timeline by keeping characters like Jessie and Biggs alive, but could those "changes" carry over to even bigger characters?
Kitase's reluctance to answer the question about "Ghost Aerith" seems to suggest the team at Square Enix might have bigger plans for Aerith's story, and Kitase doesn't want to tip their hand early. Aerith's death ranks among the most unforgettable gaming plot twists of all time, and it's hard to imagine how Square Enix can top it.