Spider-Man 2's Most Interesting Feature Is Straight Outta GTA 5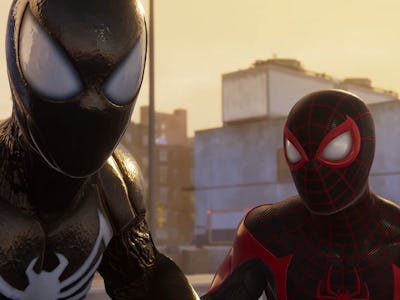 Sony
After nearly two years of radio silence, Insomniac Games has blown open the doors on Marvel's Spider-Man 2, with a lengthy showing at the PlayStation Showcase on May 24.
There are some massive surprises in the nearly ten-minute gameplay trailer, including a Symbiote Suit Peter Parker, Kraven the Hunter, and a massive showdown with The Lizard. Among all that, however, we see a fascinating new feature that lets players swap between Peter and Miles on the fly — and it looks straight out of Grand Theft Auto 5.
After an introduction to Kraven, the gameplay section opens with Peter bursting out of a cellar and taking on a group of mercenaries with his new Symbiote powers. After annihilating the enemies, Peter learns of trouble in Queens over the radio, and a button prompt appears on-screen to "Switch to Miles," with the perspective immediately moving across the city. Throughout the trailer, we keep seeing the perspective shift between Peter and Miles as a huge battle plays out.
This instant swapping is reminiscent of GTA 5, which let players swap between three different protagonists at will. The story often shifts perspective between the three suddenly, making for some unexpected twists to both narrative and gameplay.
The concept is a perfect marriage with Spider-Man 2, ensuring both heroes get their time in the spotlight, while also making the entire experience feel richer. At the moment, it's not clear if players will be able to swap between Peter and Miles at will, though we now know the story segments will at least support shifting perspectives.
Insomniac has a penchant for building inventive gameplay systems, and it's easy to see how this system could culminate in some really memorable setpieces. The first Spider-Man already had a segment sort of like this, when Spider-Man has to help Mary Jane navigate a goon-infested Grand Central Station. During this segment, Mary Jane could mark enemies that Spidey would then stealth takedown, but imagine that kind of segment with two superheroes.
To support all this, it looks like Insomniac is doubling down on differentiating the two heroes' skill sets. Peter now has the Symbiote powers that focus on melee, and grant him huge physicality. Meanwhile, it's clear that Mile's playstyle is focusing even more on stealth and gadgets, as we see quite a few different options on his HUD.
The variation between the two combined with instant swapping creates enormous amounts of potential for combat and especially boss battles, as you'll have to effectively use both skillsets. It's also interesting to think about how Ratchet & Clank: Rift In Time might have served as an experiment for this game, with two playable characters that you swap between throughout the story.
On top of all this, it could create more potential for exploration, as the trailer shows a clear improvement in environmental variety. The first Marvel's Spider-Man was set largely on the island of Manhatten, but now we're starting to see more of the suburbs of New York, neighborhoods, canals, and more. Instead of fast-traveling to the other side of a world map, you might be able to simply switch to the other Spider-Man, not breaking the flow of action.
There's a lot to dive into with the gameplay reveal of Marvel's Spider-Man 2, and it's clear PlayStation and Insomniac will have a lot to show moving forward. At the moment though, the instantaneous switching seems like one of the wildest innovations that could truly change the game for the long-awaited sequel.
Marvel's Spider-Man 2 launches on PS5 in fall 2023.