Everything we know about Injustice 3, the long-rumored DC Comics brawler
An announcement could be just over the horizon.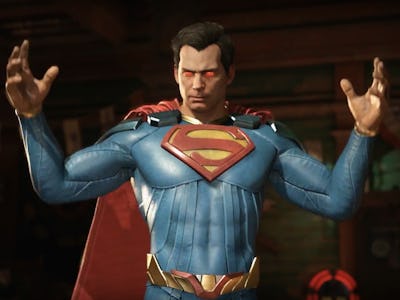 NetherRealm Studios / Warner Bros. Interactive Entertainment
Injustice 2 let DC Comics fans choose from a roster of nearly 40 iconic heroes and villains to battle their friends with. The sequel to Injustice: Gods Among Us (2013) joined the ranks of popular fighting games in 2017 and its developer NetherRealm Studios has been steadily updating the game over the past few years. But now, we could be on the cusp of the long-awaited Injustice 3 announcement.
Injustice 3 has yet to be confirmed by NetherRealm, however, a slew of teasers and hints on Twitter have raised suspicions about an upcoming reveal sometime in August 2020 or soon thereafter. The last major update to Injustice 2 added the Teenage Mutant Ninja Turtles to the fray in February 2018, and there have only been balancing changes ever since.
That could suggest that NetherRealm has been working on a follow up to Injustice 2 behind the scenes. Creative Director Ed Boon teased that the developer is working on a secretive project in an April 27 interview with GameSpot.
"It's hard to tell the timing because we don't have a launch date that we've picked for our next game, and there are so many factors involved with the transition to the next consoles," he said.
That next game might soon be revealed.
When will there be an Injustice 3 announcement?
DC Comics will host DC FanDome on August 22, the virtual event will bring together the stars, filmmakers, and creatives that have brought the DC universe to life in movies, TV shows, comics, and video games. NetherRealm's Ed Boon revealed that he'll be attending the event on August 7 and veteran comics writer Tom Taylor confirmed that Boon would be in a panel a day later.
That same day, artist Nikolai "BossLogic" Baslajik added more hype to the potential announcement of Injustice 3 when tweeted an image of what appears to a banner for the unannounced game teasing the addition of Watchmen characters to the fighting game.
The picture has the text "INJUSTIC3" spelled out at the center and the background is a big, vintage clock. The design is eerily similar to the Doomsday Clock featured in the Watchmen graphic novel, but it could also be a reference to the comic's sequel Doomsday Clock. To top it off, you can clearly see the blood-splattered smiley face pin to the left of the image, which The Comedian wears in the original graphic novel.
It's not clear whether or not this is fan art, which is how BossLogic got his start, or officially commissioned art, which has been the case in several instances for the artist. Either way, some kind of Injustice announcement is looming over the horizon, but will it be Injustice 3?
When is the Injustice 3 release date?
NetherRealm has yet to announce Injustice 3 so there's currently no official release date. However, a batch of leaks posted by an anonymous user on sketchy online forum 4chan on April 24, 2020 claims to offer some insight on a possible Injustice 3 release date.
The poster claims that NetherRealm is eyeing 2022 as the release year. The alleged leaker doesn't offer any kind of evidence or state their source, so there's nothing to prove that this information isn't completely made up.
However, Injustice: Gods Among Us and Injustice 2 were released four years apart, so a five-year gap between the second installment and Injustice 3 wouldn't be out of the ordinary. It seems reasonable, especially when you take into account the technical transition developers need to make going from the current generation PlayStation 4 and Xbox One, to the PlayStation 5 and Xbox Series X.
Is there an Injustice 3 teaser trailer?
No, not yet. But that could change after DC FanDome on August 22.
What platforms will Injustice 3 be released on?
Injustice 3 will almost certainly skip the PS4 and Xbox One consoles. The game has not been announced and a release before the next-gen consoles are released in late 2020 is almost impossible at this point. That is, unless NetherRealm pulls a Beyoncé and releases the game with no marketing leading up to its launch, which seems extremely unlikely.
The fighting game will most likely launch on the PS5, XSX, Windows, iOS, and Android.
Who will be included in the Injustice 3 roster?
If Injustice 3 is in the works, it will need to add at least a few more characters to its roster to one-up Injustice 2. The first installment of the franchise touted 30 characters and Injustice 2 stepped that up to 38, so Injustice 3 might have more than 40.
The 4chan leak claims John Constantine, Huntress, Penguin, Etrigan, Killer Croc, Zatanna, Doctor Manhattan, and Neo (Keanu Reeves) from the Matrix will be included in Injustice 3. A lot of these picks were mentioned in past fan wish lists plus Reeves will be featured in the upcoming role-playing shooter Cyberpunk 2077, so there's no reason to believe he wouldn't want to be in a superhero fighting game too.
Injustice 3 might also see the return of fighters from the original Injustice: Gods Among Us that did not make it to the second game. Those include Ares, Batgirl, Doomsday, and Shazam. NetherRealm reportedly was working on releasing a "Fighter Pack 0" to add those characters to Injustice 2, but that never ended up happening.
Baslajik's Twitter teaser also hinted that we could see the cast of Watchmen join the battle, which means gamers might be able to play as Dr. Manhattan, The Comedian, Rorschach, Silk Spectre, or Nite Owl to name a few.
Injustice 3 will need to have a bigger roster than the previous games and polishing some of the characters from past games could be an excellent way to appease fans. I mean, who doesn't want to see their favorite heroes and villains come to life on next-gen consoles?
Injustice 3 remains unconfirmed.
This article was originally published on