How BossLogic Won the Internet, Hollywood, and Then Comic-Con
The fan artist turned Marvel collaborator has forged his own path through the entertainment industry. And he's just getting started.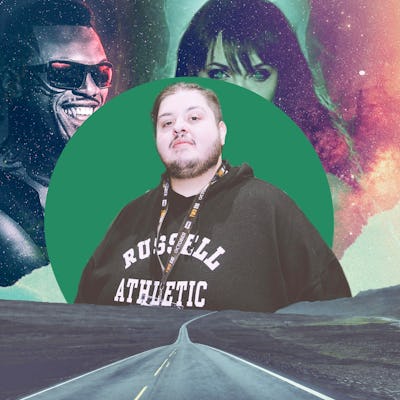 Natasha Chomko, aka POST-WOOK, for Inverse
It's the final day of San Diego Comic-Con, and exhausted attendees are scrambling to buy one final collectible before the 50th annual celebration of all things geeky shuts down. In other words, it's total chaos. But right in the middle of the show floor, there's an oasis where an inconspicuous graphic designer is signing autographs and chatting with fans who lined up to meet him, the most famous "fan artist" on the planet: It's Kode Abdo, aka BossLogic.
Being here is a milestone for him: In a few short years, has gone from making superhero-inspired mashups with Adobe Photoshop to official posters for some of the biggest movies of 2019, including Avengers: Endgame and Aladdin. (Say what you will about Disney's live-action remake, but this imaginative poster tells a story on its own.)
"This is my first Con in the states, I've only done Cons back in Australia," Abdo tells Inverse. "I tried to walk around, it's just so crowded you can't really do anything. I went to the Sideshow Collectibles booth, which is 40 meters [130 feet] away. It took us half an hour to get there."
If it wasn't for the art behind him — his posters of Pikachu dressed as Deadpool and the Avengers posing like The Last Supper — you wouldn't recognize Abdo, and not just because he rarely shows his face on his Instagram account that has 1.5 million followers. Dressed in an oversized hoodie with a scruff of beard framing his jawline, Abdo looks more like a fan than the A-list celebrities that Comic-Con attracts. But here, he's king.
Fans line up at least a dozen at a time, patiently waiting around the corner next to another booth. While I wait for my cameraman, I watch one person agonize over which posters to buy while another comes prepared with a copy of the Avengers Last Supper and pays $10 to get it autographed. Abdo even gives a five-minute interview with a teenage girl while her mom holds up a video camera. Afterwards, he offers the girl a free print. "Take any one you want," he says. "You cannot take him," one of Abdo's assistants interjects.
See also: How to Use Social Media Like a Boss, by BossLogic
Abdo has worked with Marvel's star directors the Russo Brothers and even Jake Gylenhall, but his career highlight (at least for now) was the time that Dwayne "The Rock" Johnson slid into his DMs and asked for a favor.
About a year ago, Johnson followed Abdo on Twitter before sending him a direct message with an interesting request related to an upcoming DC comic book movie starring the wrestler-turned-actor as the supervillain Black Adam.
"So The Rock contacted me to do a piece on Black Adam and Superman," Abdo says. "The weird thing is, he goes, 'I want you to do a picture of Superman beating the crap out of Black Adam.' I'm like, 'That's weird. Why wouldn't you want the other way around?'"
Nothing ever came of that piece, as far as Abdo knows, but it may be a hint at what's to come from the DC movie universe. Either way, a year later, it's still a career highlight. "It was surreal that he messaged me for that."
Of all the connections he's made, Abdo owes the most to the Russos. The director duo behind some of Marvel's biggest movies first reached out to BossLogic shortly before the release of Avengers: Infinity War in 2018.
They liked my work and they got in contact with me and then I ended up heading to the office and studios and we had a great chat in January 2018, but it was way too late for Infinity War," Abdo says. "So they helped me get in to make stuff for Endgame and the rest is history. From that job I got other pitches."
Another career highlight: Hearing his name on The Tonight Show in an interview between Jake Gylenhall and Jimmy Fallon. The topic came up after Fallon mentioned a piece of Instagram fan art by Abdo that Gylenhall had re-shared and transitioned into the two celebrities repeatedly mispronouncing "Boss Logic" until it became "Nikolai Baslajik." For Abdo, that was yet another surreal moment.
"I was working on a commission and my mother sends me the video," he says. "I check it out and I'm noticing my name butchered so many times online. I couldn't even understand what's going on because it kept going on and on and on and on. You can't pay for that sort of shout out on TV. So it was actually amazing and I appreciate it."
Afterward, Gylenhall reached out directly and hired Abdo to create a poster for his new Broadway play, Sea Wall/A Life.
Abdo can't say what's coming next, but he's working on at least a few major projects, and when I ask if he'll ever collaborate with the Russos again he doesn't rule it out either.
"Hopefully," he says. "It's too early to tell."
Abdo's art typically follows a pretty straightforward formula. He takes a casting rumor or announcement about a new superhero movie and uses Photoshop to bring it to life. It's a smart way to stay relevant, and his work regularly gets picked up by media sites (Inverse included) looking to keep comic book movie fans entertained even when there's no official news.
Sometimes that means boosting rumors that don't have much credibility (like a recent, unsubstantiated report that Crazy Rich Asians star Henry Golding could play the villain in Black Panther 2). Other times, simply bringing one of his own ideas to life is enough to set off a news cycle, like Abdo's imagined version of Eva Green in the upcoming Doctor Strange sequel that got picked up and reblogged by a laundry list of geek news websites.
When picking between the two, Abdo says he prefers working on his own ideas over preexisting rumors, adding that the internet often reacts more strongly to something fresh rather than a new iteration of a concept that already exists. He also prioritizes deadlines for paid gigs, but beyond that he's just focused on whatever superhero is most popular at the moment.
"When Spiderman: Far from Home was hot I would just produce stuff for that," he says. "The Joker's gonna be hot real soon so I'll do lots of Joker."
"Back in the Myspace days, people used to commission me to make their profile pictures. That was a thing back then."
It took a while for Abdo to find this rhythm, but he's always known he wanted to be an artist. As a kid he loved to draw, and in 2009 a friend introduced him to Photoshop. He never looked back, doing whatever he could to turn that passion into a paying job.
"Ever since then I've been just trying to sell using photoshop," Abdo says. "I made club flyers. Back in the Myspace days, people used to commission me to make their profile pictures. That was a thing back then."
It wasn't until 2015 that Abdo hit on fan art, starting with the popular CW series The Flash based on DC's fastest man alive. He moved onto Arrow (another CW show in a shared universe) and then Marvel's Daredevil on Netflix before eventually making the leap to superhero movies and casting predictions. He almost views his current work as a service for fans, bringing the latest casting rumors to life so people can decide if Mahershala Ali is really suited to play Blade.
"People were complaining that they can't see an actor as a specific character," he says. "I kind of felt bad, because I could see it. So I tried to pitch it. I'm not pitching it to industry. I'm pitching it to the fans. That started getting traction so I kept doing it. Then I started doing stuff that is not recommended, which is pitching my own things, something I want to see, and that's the fun of it."
Q&A: How BossLogic Works
What kind of programs do you use to make your art?
My 90% main program is Photoshop. That's what I use. That's what I've been using is what I always use.
What about hardware? What do you recommend?
I use a Wacom Cintiq drawing tablet, and also use a mouse. So for certain things I am more comfortable with the mouse, and when I go to digital painting I use my Cintiq.
How long does it take you to finish a piece?
If it's a piece that I want to produce for art's sake and you know, print out as canvas, that will take from eight hours all the way up to 26 to 30 hours. But to produce something new for the internet, I would take maybe two to four hours tops. I don't refine it too much. It's just so it can be fresh with the news articles.
As for what the future holds, Abdo has plenty of plans, but he hesitates to predict what the internet or the entertainment industry will look even a few years from now. Still, he's confident that there will always be room for fan artists, especially good ones.
"The industry loves these fan artists," he says. "They're free promotion for everything."
Abdo's own plans involve building BossLogic from a one-man operation into a full company. He already has one partner, Amir Kingsletter, who helps on 3D digital work, but within a few years he hopes to hire an entire team.
"That's basically the endgame," Abdo says. "I want to be an ideas person and bring in a team and be able to create heavy-hitting industry standards. I'm building to that. It's not there yet, but I'm hoping within the next three years."
As our interview comes to an end, Comic-Con is winding down too. A loudspeaker blares, revealing that attendees only have one hour left before the convention is over. Everyone around me is either leaving to beat the rush or making a beeline toward one last collectible. But there's still a dozen or so fans patiently waiting for a moment with BossLogic, hoping to buy an autographed poster and maybe get a little advice from the guy who went from creating fan art on Instagram to designing a poster for the biggest movie of all time.
For anyone who couldn't make it to Abdo's booth, or Comic-Con at all, here's a bit of advice from the Boss himself:
"All these people that ask me for advice, I just say: Stop thinking about it and just start. It's always going to be slow, but as long as it's your passion, the more you produce the better you'll get. The money and all that sort of stuff will come in time."
See also: How to Use Social Media Like a Boss, by BossLogic
BossLogic is a member of the Inverse Future 50.