Dwayne Johnson's 'Black Adam' Still Happening, May Have DC Cameos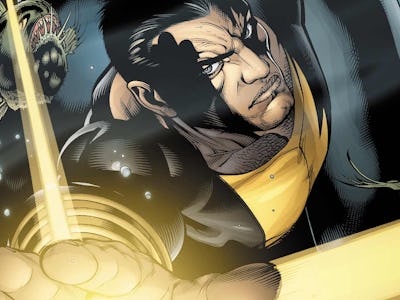 DC Comis
It's going to be a little while longer until Dwayne Johnson steps into the DC Universe as the supervillain/anti-hero Black Adam. But in a new interview, the former WWE star revealed that production on Black Adam could begin next year, and it may have a special cameo or two.
In an interview with German website FilmStarts to promote his new film Skyscraper, Johnson gave an update to Black Adam, the DC film in which Johnson will play Teth-Adam, the arch-nemesis of the superhero Shazam (formerly Captain Marvel) played by Zachary Levi. Johnson's involvement was announced back in 2014, but production has stalled as Johnson has taken on a number of other projects.
"With Black Adam, I don't think we're going to start early next year," Johnson said, citing conflicts with filming for the next Jumanji and Red Notice, a new thriller co-starring Gal Gadot. "But Black Adam possibly at the end of next year. It's coming along great, the script is coming along great. We're very happy with it."
Johnson then teased cameo appearances of other DC superheroes. "Without giving anything away, there might be maybe a cameo or two of some of the other DC superheroes. We'll see," he said.
"That's been the beauty of Black Adam. As we've been developing it, we could make a movie that just stood on its own too as well, but that's also the beauty of those universes coming together at DC."
While in the comics Black Adam and Shazam are as intertwined as Batman and the Joker, DC and Warner Bros. are pursuing films with each character headlining their own solo film before eventually pitting them against each other. David F. Sandberg is currently directing Shazam! with Levi, and is slated for release on April 5, 2019. Black Adam doesn't have a director yet.
There is currently no release date for Black Adam.