Everything you need to know about Hyper Scape, Ubisoft's Fortnite killer
Ubisoft's foray into the battle royale market is the sci-fi shooter Hyper Scape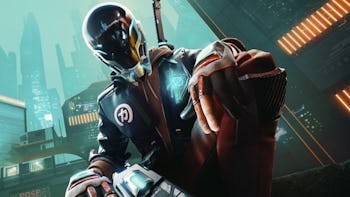 While the battle royale space is dominated by games like Fortnite, Call of Duty: Warzone, and Apex Legends, French publisher Ubisoft has dropped into the ring. Hyper Scape, a battle royale game Polygon said was "for the looters, not the shooters," is out in the wild.
Here's everything we officially know about Hyper Scape.
When is the Hyper Scape release date?
A technical test for Hyper Scape began on PC that same day that the game was officially unveiled: July 2, 2020. That technical test led to a full launch on PC July 12, 2020 that coincided with Ubisoft Forward, a digital event that the publisher held to highlight its upcoming lineup.
Still, console players were left in the dust at that point. Thankfully, they didn't have to wait too much longer as the PS4 and Xbox One versions of Hyper Scape were officially released on August 11, 2020. Whether you're on PC, PS4, or Xbox One, you can now play Hyper Scape for free without any issues.
What platforms is Hyper Scape on?
When Hyper Scape's technical beta began on July 2, it was only available on PC. As we mentioned though, the game is also available now on Xbox One and PS4. While the current-gen versions would theoretically be playable on PS5 or Xbox Series X via backward compatibility, next-gen versions have been confirmed.
"We are currently looking into developing specific features and performances for next-gen," Creative Director Jean-Christophe Guyot told SegmentNext. "With the fast pace of the game, we always prioritize responsiveness and framerate."
Ubisoft did not mention a Nintendo Switch port of Hyper Scape. As other battle royale games like Apex Legends are making their way to the system, don't be surprised to see Hyper Scape come over if it's a success. Google Stadia is also notably absent, which is surprising as Ubisoft has been one of the biggest third-party supporters of Google's fledgling platform. For now, Stadia players will have to stick to PUBG for their battle royale fix.
Does Hyper Scape have cross-play and cross-progression?
Ubisoft has confirmed via the official Hyper Scape website that cross-progression is active with the launch of Season 1 and the console releases.
"No matter which platform you choose, cross-progression allows you to carry your progress with you," the post reads. "This means that if you progressed through your Open Beta Battle Pass by watching Crowncast-enabled Twitch Streams, any content unlocked this way will be available on your account when you first sign in."
The post also notes that cross-play between separate platforms is not currently available, it's planned for a future update. "Prisma Dimensions plans to introduce cross-play to Hyper Scape at a later date," the same post reads. "Please note that when Cross-Play is released, it will be an optional feature."
What makes Hyper Scape stand out?
Hyper Scape is a first-person shooter battle royale with a sci-fi aesthetic. It's somewhat comparable to Apex Legends, though it benefits from shorter matches and a few other unique aspects. Like most battle royales, you'll spend a decent chunk of each map scavenging the map looking for useful gear and weapons.
Instead of dropping duplicates, Hyper Scape uses them to upgrade the player's current weapon, which is a unique spin on the genre's looting formula. Death also doesn't immediately kill you. Instead, you become an "Echo" that can still explore the environment while invisible, and you can be revived if one of your teammates manages to kill another player. Viewers on Twitch can also influence matches by showing the locations of enemies on the map, initiating low gravity, and more.
As the match nears its end, a Showdown phase will begin and a crown appears in the middle of the map. Once this phase begins, players can win in one of two ways. Like any other battle royale, you can kill all of your opponents to win. In Hyper Scape, you can also carry the crown for 45 seconds during this phase to win. Hyper Scape supports both solo and three-player squad matches.
What does Season 1 of Hyper Scape contain?
Like most modern multiplayer games, Hyper Scape's post-launch content is divided into seasons. The first season is aptly titled "The First Principle," and began alongside the launch of the console versions of Hyper Scape. Still, it also added some new things to the game for those who have played on PC back in July.
When it comes to weapons and hacks, Season 1 adds the semi-automatic precision rifle Dragonfly and a hack called Magnet that causes enemies in its area-of-effect to get stuck. A tool to report cheating or other annoying played was added as well. Hyper Scape is yet another game with a battle pass, and both free and paid ones are available for the game's first season.
Looping back to the game's Twitch connectivity, so new features for that were also implemented in "The First Principle." Lethal Melee lets viewers all make melee attacks one-hit kills, while a new Kudos system lets viewers cheer on streamers with unique visual effects. New Memory Shard collectibles that flesh out lore were also added. Check out the first season's dedicated blog post for a full breakdown.
When will Hyper Scape Season 2 start?
Ubisoft has not shared any information on the length of "The First Principle" or when Season 2 will start yet. Typically, battle royale game seasons last 3 to 4 months. If Hyper Scape follows this same cadence, Season 2 should hit around November or December 2020. We will definitely learn more about the next season in the leadup to its launch and will update this article when more is revealed.
Who is developing Hyper Scape?
Hyper Scape is being developed internally at Ubisoft. According to The Verge, Ubisoft Montreal led the development of the project. They also serve as the lead developer for many Far Cry and Assassin's Creed games, including Assassin's Creed Valhalla.
Hyper Scape is available now on PC and will reportedly come to PS4 and Xbox One on July 12, 2020.
This article was originally published on