Everything you need to know about Sony's Horizon Zero Dawn TV series
Aloy comes to streaming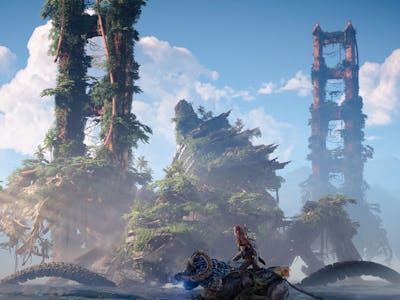 Sony
Sony announced that it was working on three more TV shows last month, each of which will adapt a first-party exclusive video game franchise from the company. It has long been known that a Last of Us TV show is in the works for HBO, so it isn't so surprising to hear Sony is doubling down. In addition to God of War and Gran Turismo, a show based on the Horizon franchise from Guerrilla Games is also on its way. One of the most interesting additions to the show will be a fleshing out of one of Horizon Zero Dawn's most interesting plot threads. Here is everything we know so far.
What network is making the Horizon Zero Dawn TV show?
Sony has said that the Horizon TV show will be a Netflix series. In addition to the HBO Last of Us series, Sony wants to diversify the platforms that its shows will be on.
When will the Horizon Zero Dawn TV show be released?
While there is no release date, we can make some educated guesses based on how Netflix has released shows in the past. Horizon will be a show that is heavily marketed by both Sony and Netflix when it comes out, an adaptation of a game as successful as Horizon is bound to have a lot of hype.
As the show was only just announced and we don't have much production information, it is likely the show won't release until at least 2024 if we look at production on HBO's Last of Us series which began production in 2021 and is scheduled for release in 2023. As far as when in the year it will release, the best times for a new series to come out are in the fall or mid-spring. As far as game releases go, the early months of a year are sometimes a dead zone, so Sony might put Horizon in February 2024.
What is the Horizon Zero Dawn TV show story?
The show will likely follow the plot of the first game with some variations. In Zero Dawn we are introduced to a post-apocalyptic world that lives in a world without modern technology and focuses on tribal communities — oh and there are robot dinosaurs. Aloy is a girl with a tendency to get into trouble due to her fascination with the technology of the old world.
After her home village is attacked Aloy goes on a journey to uncover the mysteries of the old world to prevent more destruction. Along the way, she meets new allies, gets some killer outfits, and learns a shocking truth about herself. All of this is well suited to a TV adaptation.
Jeff Grubb, an industry insider responsible for new information, stated that the show will not be "a reboot or remake or reimagining of the game's storyline" but will instead "take place parallel and explain other elements that happen". So, expect side characters and plots to get more screen time than they did in the original game.
When does the Horizon Zero Dawn TV show take place?
Grubb also revealed that the show will be titled "Horizon 2074" and will be "split between the timeline you see in the games and the timeline of where things begin to fall." This information means that a substantial part of the show will build upon information that Aloy learns in the first game.
Spoilers for Horizon Zero Dawn
Aloy uncovers information about a scientist from the old world named Elisabet Sobeck who had a hand in creating Zero Dawn, which would help eliminate robots and restore life to Earth. Aloy is attacked by the antagonist of Zero Dawn when it is revealed she has the same likeness as Sobeck. Aloy discovers she was created by the AI GAIA to help fight the evil AI HADES, using the DNA of Sobeck as a base for Aloy.
The TV show will highlight the work of Aloy and Sobeck in their respective timelines. This will expand on Sobeck's story as it is experienced by players in Zero Dawn, which occurs through recordings and documents that Aloy discovers.
Who is making the Horizon TV show?
As of now, there has been no information about the team behind the project. If the Last of Us series is any indication, then members of the game's original team may join the project. Last of Us Creative Director Neil Druckmann is attached to the TV show to write, direct, and produce. John Gonzalez and Ben McCaw were the writer's behind Horizon Zero Dawn and both could lend their talents to the TV show. But that remains to be seen.