How to Forge the Divine Weapon in Honkai: Star Rail
An elegant weapon for a more civilized age.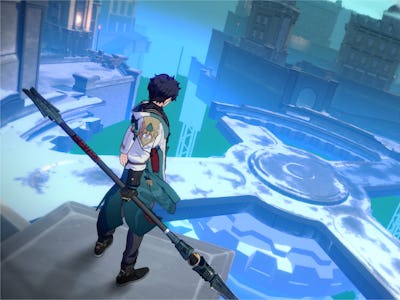 HoYoverse
Honkai: Star Rail version 1.2 is out and has brought with it new bosses, new banners, and new quests for Trailblazers to sink their teeth into. The latest limited-time event is Tales of the Fantastic, and its story mission Hero's Journey. While the majority of the mission is straightforward it is easy to get stumped when it comes to forging the divine weapon.
Here's everything you need to know to complete Hero's Journey in Honkai: Star Rail before the event ends on August 7.
The first step to starting the Hero's Journey is to complete the Trailblaze Mission A Dragon Gallant, Its Ocean Distant which is the latest mission added in version 1.2. After completing this prerequisite, you will receive a message from Mr. Xiyan asking you to meet him at the Central Starkiff Haven. This unlocks the Tales of the Fantastic event and Hero's Journey.
The mission has three separate chapters. The first two are relatively straightforward and ask you to complete a handful of combat encounters, fetch quests, and the occasional puzzle. The third and final chapter adds a wrinkle that is the source of some confusion.
During the third chapter of Hero's Journey, you will be tasked with forging the divine weapon — the Star-Shattering Blade of Truth (although you can rename it if you think that is too much of a mouthful). To forge the weapon properly you need to complete a series of tasks in the correct order or start over.
The correct order to complete the tasks is as follows. First, you need to put in the Bon Aqua. Second, is the Ignis Aureliae. Third, is the coolant. Fourth and finally you put in the hilt wood from the Arbor and add more Bona Aqua. With those steps completed correctly, you will now have forged the Star-Shattering Blade of Truth.
Completing this step of the mission will reward you with six Adventure Logs, four Condensed Aether, and 30,000 Credits.
After this the only step left in the final chapter of Hero's Journey is to defeat the Abundance Sprite: Malefic Ape in battle. Once that is done you will finish the quest and be further rewarded with 30 Stellar jade, three Traveler's Guides, and another 30,000 credits.
The added benefit of completing all of Hero's Journey is that it will unlock all of the Legends of Past and Present scenes, which makes up the second game mode available in Tales of the Fantastic. Playing Hero's Journey is also the way to gain more Plot Armor for the second game mode.
By playing Tales of the Fantastic you can easily earn a large sum of Stellar Jade, which you can put towards constantly pulling for Blade.
Honkai: Star Rail is currently available on iOS, Android, and PC.